The Adjustable Bag – is the world's most versatile convertible bag. With three sizes and multiple configurations it's the only bag and the last bag you need.The Adjustable Bag can instantly expand or contract to fit what you need, has multiple configurations, and is completely collapsable.
Bag can be configured into a variety of different ways. Whatever fits your style or occasion. The straps can also be completely removed so that that The Adjustable Bag can streamlined for shipping.

The Adjustable Bag is also completely collapsable so that you can easily store it anywhere or carry it with you wherever you go.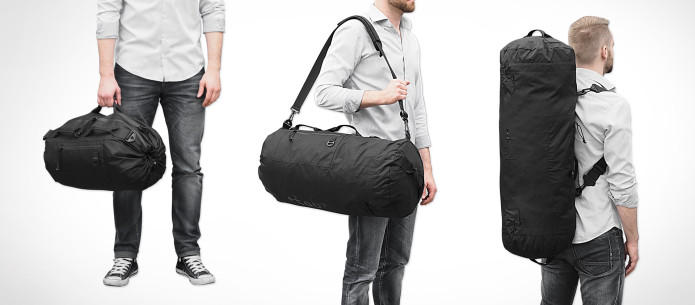 The Adjustable Bag uses an innovative and simple cinch system that allows it to instantly expand or contract. It is inconspicuous and completely integrated into The Adjustable Bag's design giving it a low key look. No other convertible bag is so easy to use.
Whether you need a day, weekend, or travel bag,The Adjustable Bag is all you need.The Adjustable Bag is made of the highest quality materials, simply built to last. We've equipped it with features such as water-resistant rip-stop nylon, waterproof zippers, and Duraflex™ brand hardware.Bag 's size versatility is unparalleled. Below picture indicates the precise measurements.

It has a symmetric design that allows it to expand to either side. To comfortably carry it we've equipped it with three top handles allowing it to always maintain it's balance.
Bag's cord pockets use two strong neodymium mangets as the closing mechanism. Magnets have a longer lifetime and keeps the cord safe from scratches, thus ensuring The Adjustable Bag's durability.
When arriving to your destination, The Adjustable Bag can easily contract into a day bag, saving you the hassle of having to carry an additional day bag on your trip.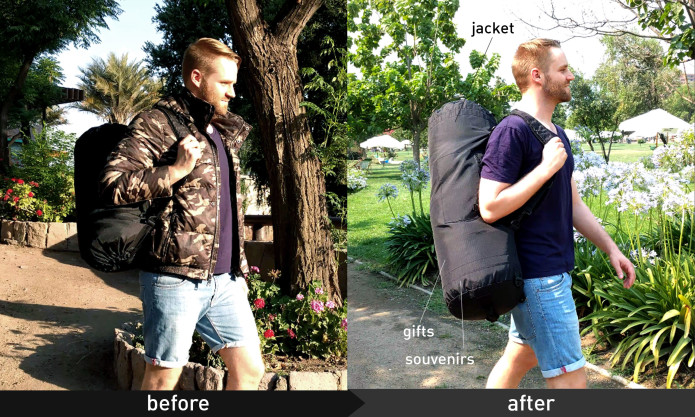 Also, Bag can consolidate all your different sports / exercise bags into one. There's no equipment too big or too small for The Adjustable Bag .