The only bottle that fits in your bag and matches your style. Unique spiral design shrinks the bottle without sacrificing good looks.This travel-friendly collapsible bottle features a unique spiral design that lets you transport water with ease. You can shrink it down to a smaller size without compromising the aesthetics of the que Bottle. It's an environmentally-friendly product that eliminates the need to carry around a large hydration device that's heavy, bulky and takes up a lot of room. The que Bottle is lightweight and compact, making it easy to take with you wherever you need to go.
Bottled water causes a huge amount of environmental waste for our planet. That's why the design team at que have developed a bottle that helps to curb this plastic pollution. This product is manufactured from 100% BPA-free food-grade silicone and is 100% plastic-free, making the que Bottle 100% green.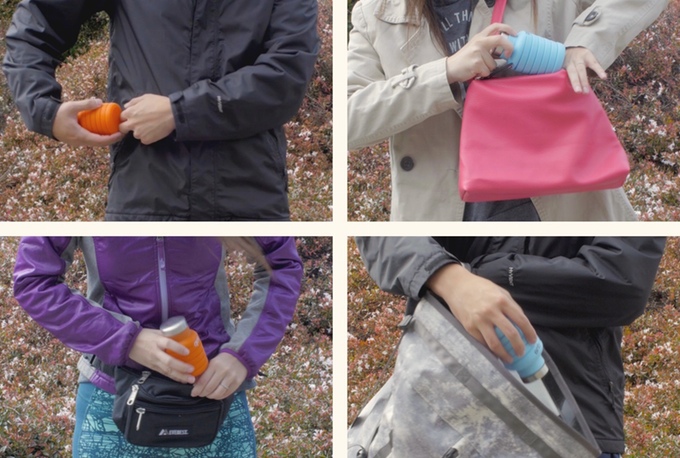 It's more than just a water bottle, beautifully crafted que Bottle is also a fashion accessory.The new travel essential, the bottle that travels with you everywhere. It collapses and expand over and over again.
The perfect travel bottle that's both collapsible and fashionable, so you can take it with you and stay hydrated in style.It is BPA-free & Plastic-free, Dishwasher safe, Taste & odor free ,Wide mouth, fits ice cubes,Safe under high temperatures, Shockproof.Designed to save space for what matters: Your travel bottle should be your active lifestyle companion; lightweight, compact and stylish, it keeps you moving forward and focused on your next adventure.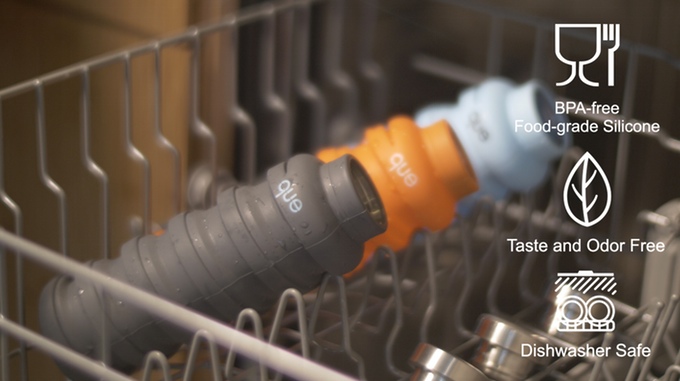 The que Bottle is tested for its high and pure grade silicone quality because we understand that the container that holds your water should be safe. Unlike metal or plastic containers, silicone WILL NOT change the taste of your water. It's the water bottle that has the best qualities of glass and metal, with the added benefit of being flexible, light, and shatter resistant.