Light-years ahead of other wheeled haulers, the Polymule was designed for heavy-duty use while remaining nimble and ultra-portable. Thanks to superior ergonomics, class-leading ground clearance and payload capacity, and an industry-first 'uphill assist' feature, the Polymule can take on the toughest jobs OR haul your gear into any adventure. Options: Roof Rack Kit/Cargo Carrier Kit (LEFT), Rear Handle, All-Weather Gear Cover.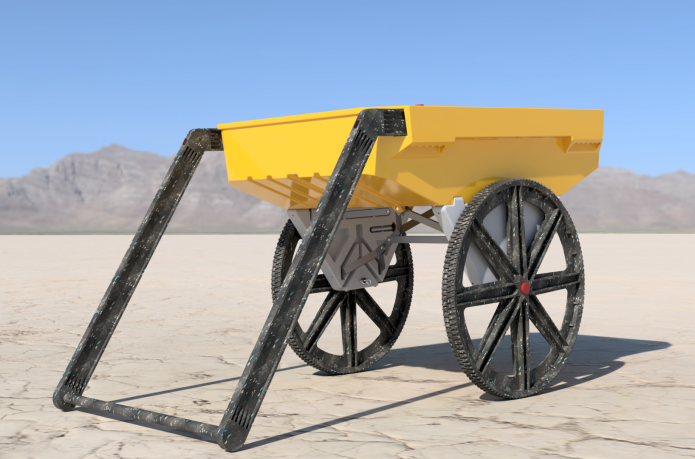 BORN TO BE WILD
Polymule is a HIGH PERFORMANCE utility cart that was designed for heavy-duty use while remaining nimble and ultra-portable.  Unlike traditional garden carts and wheelbarrows, the Polymule makes hauling large loads on rough terrain EFFORTLESS thanks to oversized wheels and sealed precision bearings.
The Polymule is made with ridiculously tough, SPECIAL-DUTY POLYMER and features 20 inches of ground clearance, 400 lbs of payload capacity, and an industry-first 'UPHILL ASSIST' system.
ERGONOMICALLY SUPERIOR to other wheeled haulers, the Polymule significantly reduces back, neck, and shoulder strain thanks to an intelligent design that supports PROPER BODY MECHANICS.  Available in Goldenrod, Desert Tan, and Moss Green.









As an early backer, claim the Polymule and ADD-ONs at never-again prices.
To secure the earliest possible ship date, order soon! —–>

Not ready to order?  Subscribe for exclusive updates.

TECHNICAL SPECS

TIMELINE
Our production time-table is as follows.  While we don't anticipate any hiccups, estimating tooling lead times and estimating delivery dates is an inexact science.  We intend to stay in close contact with our backers.  They will know what we are 'up to' every step of the way!

MANUFACTURING
The production Polymule will be manufactured using various molding technologies including rotational and compression molding. The final products will be highly durable, aesthetically pleasing, and functional.  We are currently working with manufacturers here in the USA to ensure the best quality possible.  Some minor design changes may be necessary to efficiently mold the handcart.  Major changes are not anticipated.  Any change whatsoever will be discussed with our backers.  Backers will be part of the decision making process and we will weigh all suggestions carefully. We pledge not to cut corners. We are in this for the long-haul.

HOW DOES THIS WORK?
This is a "Fixed Funding" campaign AKA "all-or-nothing".  Indiegogo will charge your card immediately at checkout, however, if we do not reach our funding goal by the end of our campaign, Indiegogo will refund you in full within 5-7 days.
INDIEGOGO: A WIN-WIN
Indiegogo is a "crowdfunding" platform that is used to help jump-start products and companies. In our case, it's helping us generate PRE-ORDERS to move the Polymule from prototype to production.  THIS IS A WIN – WIN…in exchange for your help, we are offering a limited-time 30% OFF our product line-up.
RISKS & CHALLENGES
Once successfully funded, there will be plenty of tasks.  We will work tirelessly to stay on track with our 'timeline' and plan to bring the Polymule to our backers according to their order's ship date.  It is quite possible that we will ship before our stated delivery dates.  That being said, putting a time-frame on order fulfillment is an inexact science.
We hope you will join us for the ride and we promise to keep you informed!
Sincerely,
The Polymule Team
FREQUENTLY ASKED
Are custom orders / perks possible?
We can accommodate custom orders ONLY IF there is interest in purchasing three or more Polymule units.  Once arrangements are made, we will send you a "secret link".  Your purchase will be made through INDIEGOGO.  Serious inquiries only.  Please contact —-> support@polymule.com
When will shipping start?
Polymule will begin shipping in August 2018 and will continue until all orders are fulfilled. Orders will be shipped sequentially, with early backers receiving their orders first.
What are the shipping costs?
There is a flat $98 shipping cost for each Polymule unit.  Add-on kits ship free with a corresponding Polymule purchase.  If you have questions or concerns about shipping, please contact us directly  —->  support@polymule.com
Why are your perks limited?
We have intentionally limited the amount of backers for all of our 'perks'.  If you don't see the perk you wanted, check again later.  New perks will become available with later delivery dates to ensure we can meet growing production and logistical demands.
Which countries will Polymule ship to?
We offer shipping worldwide. For customers not located in the USA, please contact us —-> support@polymule.com.  We will calculate shipping costs and provide you with a special link to order on Indiegogo.
What are your return / refund policies?
Returns and refunds are processed on a case-by-case basis.  At some point we will need to lock refunds in order to go into production & fulfillment.  We will not be able to refund orders once they've shipped.  In the unlikely event that your product is defective and you would like to make a warranty claim please contact us —-> support@polymule.com
What is the warranty period?
The vast majority of wheelbarrows, garden carts, and yard carts offer 90 day warranties.  We offer a 5-year limited warranty even though we expect our product to become a family heirloom. Full warranty details forthcoming.
I have questions or concerns, who do I contact?
If you have already ordered a perk we recommend you contact us directly through Indiegogo by scrolling to the top of the page and selecting "ask a question" under 'Project Owner'.  For all other inquiries please email —->  support@polymule.com
How will the polymer hold up in extreme cold?
The polymer we will be using is known in the engineering world for its sub-zero impact resistance. Some formulations of this polymer are used in military vehicle armor systems and bullet-proof vests. It's insanely tough…
How will the polymer hold up in UV radiation?
Decades. The formulation we will be using is UV stabilized.
How does the UPHILL Assist work?
The UPHILL Assist system is integrated directly into the struts.  A good analogy is a socket wrench.  Flipping a switch prevents travel in one direction using a 'gear' and 'pawl' mechanism. This system makes going uphill MUCH safer and easier. If you need to adjust your footing, your grip, or take a rest, you don't need to keep constant force on the handle, as the cart will not roll backward.
Can the All-Weather Cover be used when the Polymule is in cargo carrier mode?
Though durable, the All-Weather Cover is not built to be on the highway. We recommend using a common cargo net and tie downs to secure loads in the Polymule when it is being used as a cargo carrier.
As a Cargo Carrier, what speeds are possible and how much weight can be placed inside?
In cargo carrier mode, the Polymule is capable of normal highway speeds when used with our Roof Rack Kit AND a standard factory roof rack system.  Weight capacity is limited to the maximum weight rating of your vehicles roof rack system.
What material will the All-Weather-Cover be made out of?
Durable UV resistant polyester rip-stop…NOT nylon.
What real-world testing has been done on the Polymule?
We spent hundreds of hours torture testing an early prototype.  We abused it in nearly every way imaginable… including drop testing, throwing rocks and logs AT and IN it, hauling it over ridiculously large boulders, dredge pilings, through rivers, flipping it upside down, pulling it up steep grades, etc.  Needless to say, we are willing to bet the Polymule can handle anything you throw at it… that's why we're offering an INSANE five-year warranty (20x the industry standard).
See the early prototype in action:
SPREAD THE WORD!
Make our day! Share Polymule with your friends!  Check out the social share links at the top-right of this page or use the ones below.  Call, text, and snail-mail are also acceptable!




Polymule(TM), and UPHILL Assist(R) are registered trademarks of Polymule, Inc.  Design and features are patent pending.
Check it Now! www.buyrolexreplicawatchess.com www.WatchSuperGirlOnline.com www.inwatchesreplica.com www.watchufc202.com www.watchesbo.com