Orico is the best revolutionary power bank, having a fast charging speed and being compatible with seven protocols. Charge all your devices – iPhone, iPad, laptop, watch, iPod – with the world's most powerful battery. Orico offers two capacities: 1,0000mAh and 2,0000mAh, and both have a slim body to keep your devices fully charged. Super-fast restorage technology lets Orico get fully recharged super quickly. Orico is the best solution for all your charging needs.
Supports seven protocols. Fast charging dream for all devices.
Support seven protocols: Intelligent Device Detection. Works with Apple, Samsung, Kindle and others. The seven protocols can deliver fast charging for QC 2.0 3.0 / BC 1.2 / Apple devices/ Samsung AFC/ MTK PE 2.0 1.1.
18 W fast charging, 50% charge in 30 minutes
Orico could be the world best fast charging devices here. Using fast charge technology, Orico perfectly delives up to 18 watts of power to all your iPhone, iPad and Macbook etc. It's a convenient, safe, and reliable way to charge and power all your electrical devices 2-4 times faster than the standard power bank.
Unimaginable faster charging for both IOS and Androids 
By utilizing quick charging cable which is compatible with iOS devices, Orico boosts up your battery from 0 to 50% in 30 minutes. Charging your iOS devices at un-thrilled speed by providing 2X the performance of your outlet charger.
[youtube http://www.youtube.com/watch?v=S-F9uS2XzJo?autohide=1&controls=1&showinfo=0]
iPhone Faster Charging Test Video. Boosts up your battery from 0% to 50% in 30 minutes. 
Orico is built with the latest Qualcomm Quick Charging (QC 3.0) technology allowing it to charge your Android device 4X faster than a conventional charger. It charges your Android phone's battery up to 80% in 30 minutes. QC 3.0 employs an intelligent algorithm to allow your portable device to determine what power level to request at any time to enable optimum power transfer.
[youtube http://www.youtube.com/watch?v=jNQcWb9hojI?autohide=1&controls=1&showinfo=0]
Android Faster Charging Test Video.
Colossal capacity comes with slim body
Orico has a colossal capacity of  20000mAh with a slim body, allowing you to charge iPhoneX up to 5 times, iPhone 8 up to 7 times, iPad mini 1.5 times while it is getting fully recharged.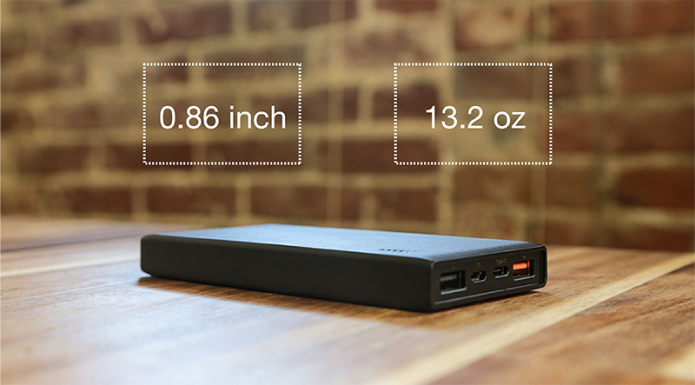 Many power banks do not come with a slim body. Orico is making charging possible from anywhere, with its mini body that fits in your backpack.
Full of power. Seven days of usage per charge
Are you still experiencing an average of 1 day of usage per charge, are you still get troubling that your power bank is always out of power when you need it?  Now let Orico bring you seven days of usage per charge with full of power.
Only 2 hours full restorage
Orico is built-in the external battery charger with USB-C/ Type-C and Micro USB ports. Use them to quickly recharge the external battery at 18W quick self-charging speed(5V3A input), and the whole recharge process takes only 2 hours. Or even the Type-C port could let you charge your Apple Macbook being as an output port.
Offered to be the best valuable power bank, Orico provides you the most power functions at the most affordable price comparing with other charging devices. It was Orico that created the high-quality charging style. Now, Let's open to a new revolutionary charging world and meet Orico here.
Dual USB-A outputs and one Type C output installed in Orico can charge phones, pads, MacBooks or other devices simultaneously (Laptops, Nintendo Switch, GoPro's, USB Lights, Action Cameras, Portable Speakers, Tablets & more). Power up all your devices by one Orico.
Multiple electronic devices are needed in our life, such as iPhone, Watch, iPad, AirPods, laptop. With Orico, you never need to any different chargers, there are three outputs including 2 USB-A and Type-C installed in the Orico. Whether you are the Apple or Android lover, welcome Orico; it's designed to power up all your devices in one convenient place.
Orico, as an innovative, national high-tech company that has been studying USB data transfer and USB charging technology for many years, researches and develops innovative products around USB and Type-C technologies. Orico also strives to develop more practical and high-performance products for individuals, families, and businesses with our substantial research and development capabilities, strict production attitude and rich R & D experience. We are committed to building up a reliable, convenient and innovative image well known to most users, and our products are well sold all over the world.
1. What type of smartphones that Orico is compatible with? 
Orico is compatible with any type of smartphones including iPhone X, iPhone 8 , other older models like the 6 and 7, Samsung Note, Galaxy S6/S7, Edge, and LG G5/6 etc.
2. What are the safety features of the Orico?
Orico is built-in high quality and safe Li-polymer battery. There are multiple security protections, achieving nine layers of protection, overcharge, over voltage, over current, electromagnetic field, short circuit, overheating, overpower, recovery and over discharge protection.
3. Does Orico support QC 3.0?
Yes, Orico supports QC 3.0
4. When will you be shipping Orico?
We will be shipping out our perks in May.
5. How many outputs and inputs does Orico have and what are they?
There are three outputs and two inputs installed with Orico.
6. Does it have Pass-Through Charging? Can I charge this power bank while charging a phone at the same time?
No, you can not. Orico is not equipped to handle Pass-Through Charging.
7. Can Orico charge my Macbook?
Yes, the Orico can charge your Macbook by Type-C at 18W speed.
8. What is the refund policy for Orico? 
You can initiate 100% refunds within the first 8 days of backing an Indiegogo campaign.
9. What is the return and exchange policy for Orico? 
Please note all sales are final.Contributing to a campaign and claiming a perk on Indiegogo is not the same as buying a product online.
10.How to quickly charge the Orico?
As long as using 9v/2A charger, you can achieve rapidly storage your Orico at the speed of 18w.
11. Why Orico could achieve fast charging for iPhone X and iPhone 8?
http://support.apple.com/en-us/HT208137
Apple supports safe 18W fast charging by Orico's USB-A port. Use fast charging cable (9V2A) to charge iPhone up to 50 % battery in 30 minutes. Please see the test video above.
12. How can we contact you by email for customer service? 
Please feel free to contact us through email when you have any questions concerning Orico: oricoteamus@gmail.com.