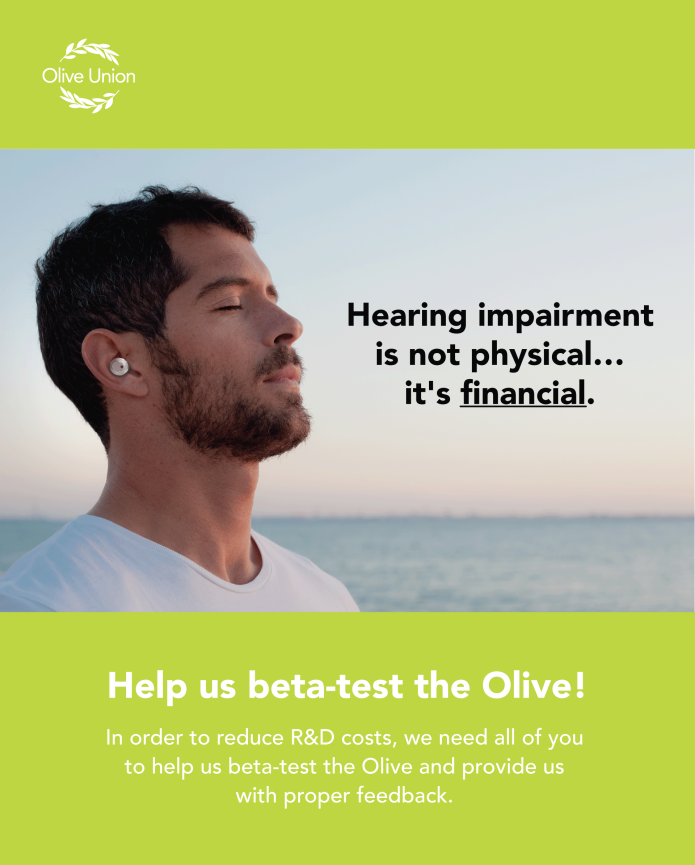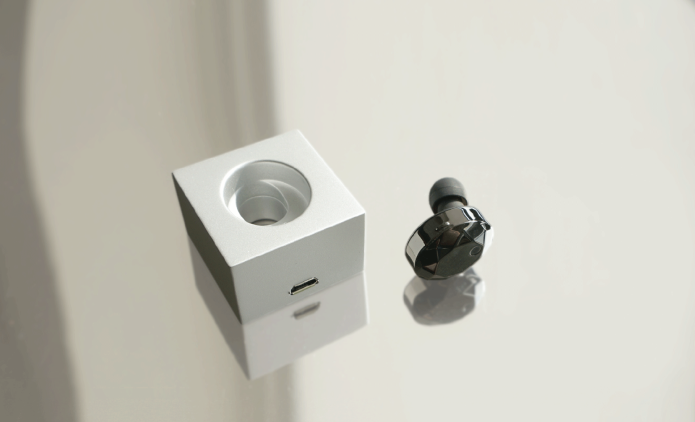 WHAT IS THE OLIVE?
The Olive is a human-centric piece of technology, affordable hearing for all. Because of the financial barriers and negative social perception of wearing hearing aids, many who are hard of hearing simply give up on hearing perfectly.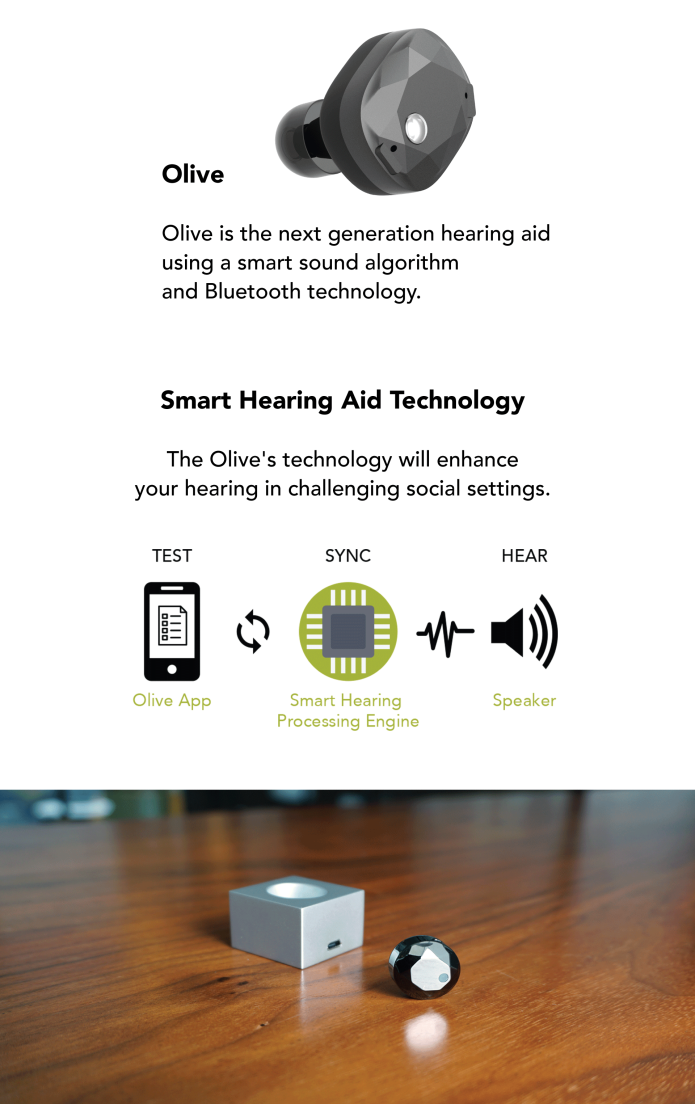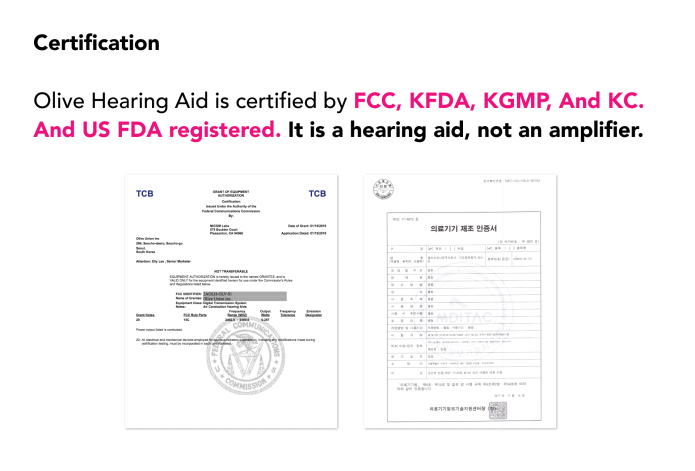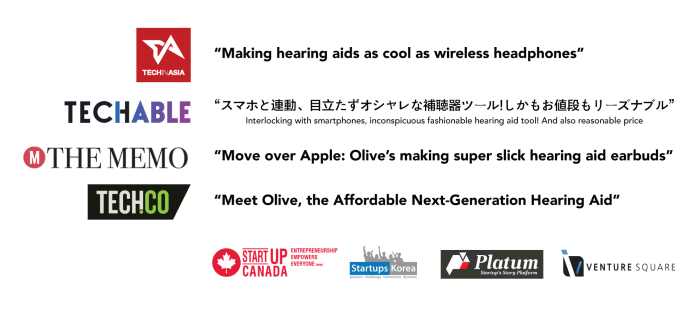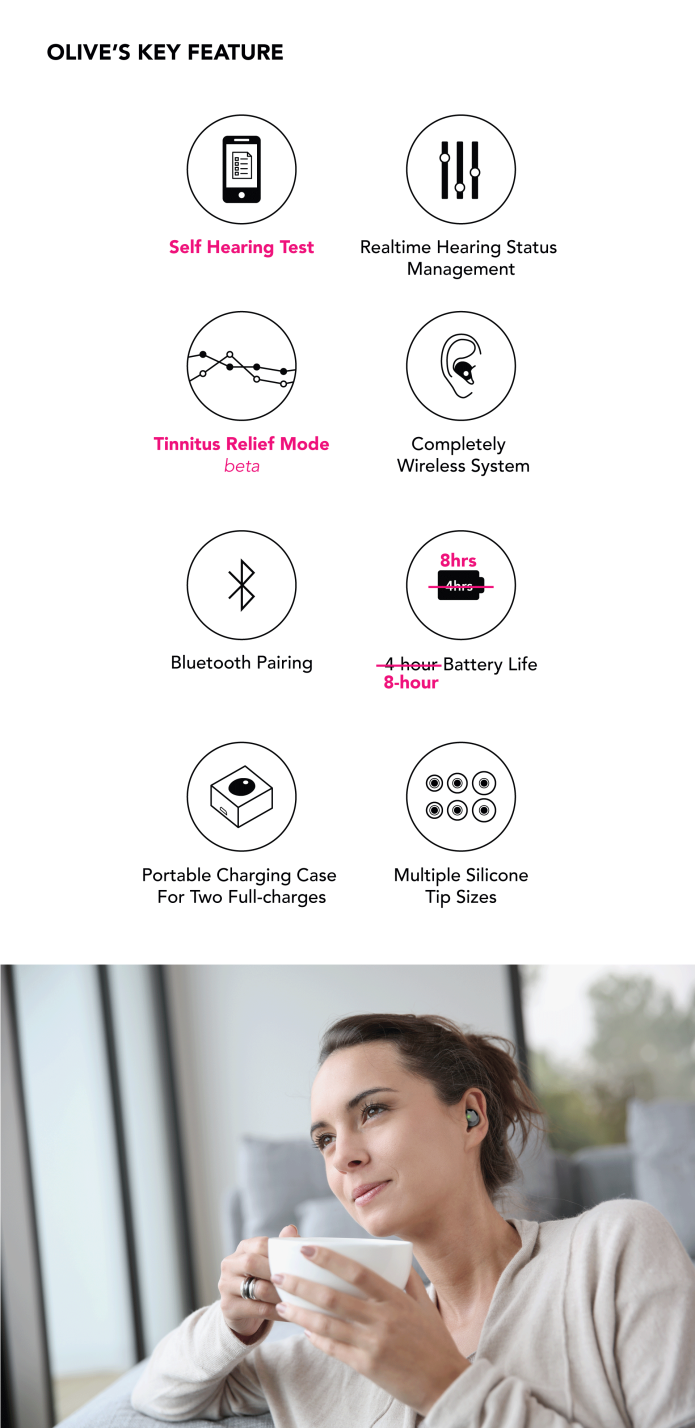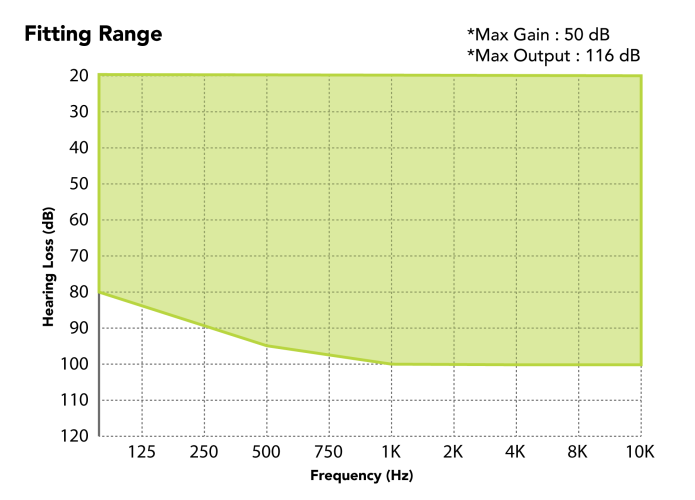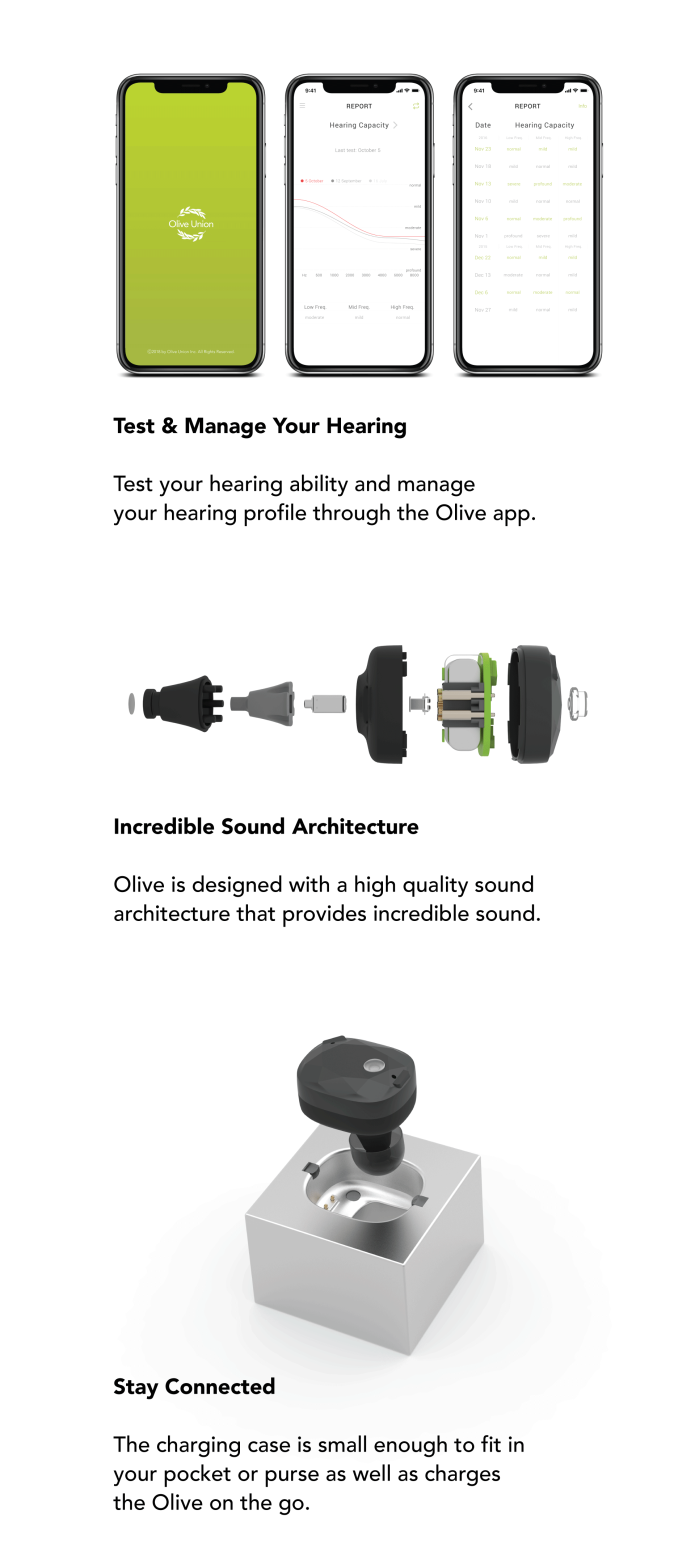 SPECIFICATIONS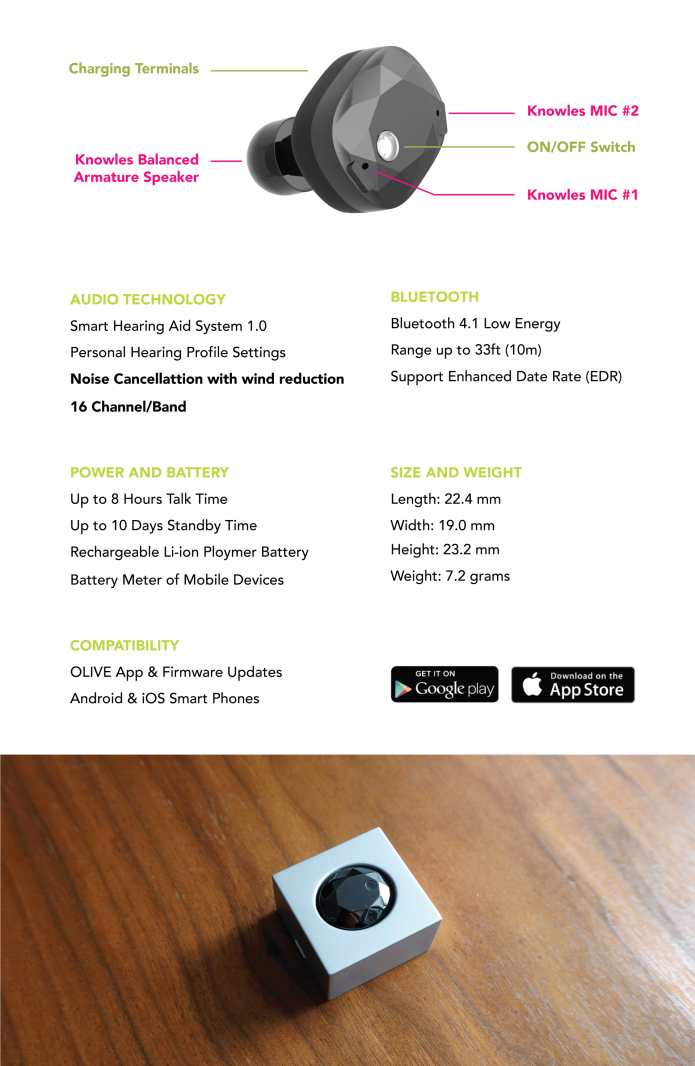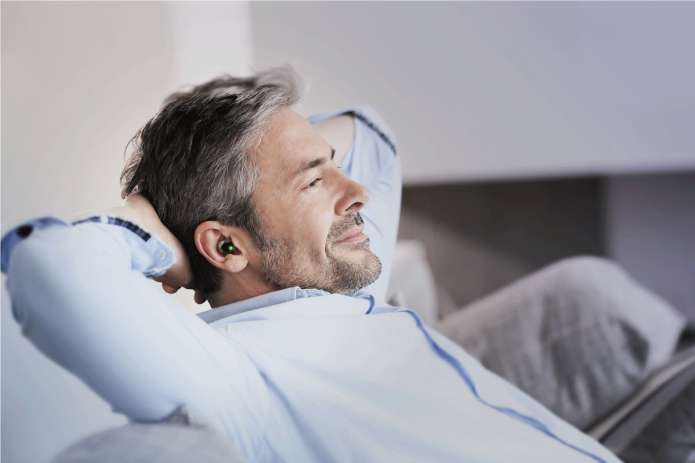 WHAT IS THE PROBLEM?
The current generation of hearing aids are prohibitively expensive and look distinctively like medical devices.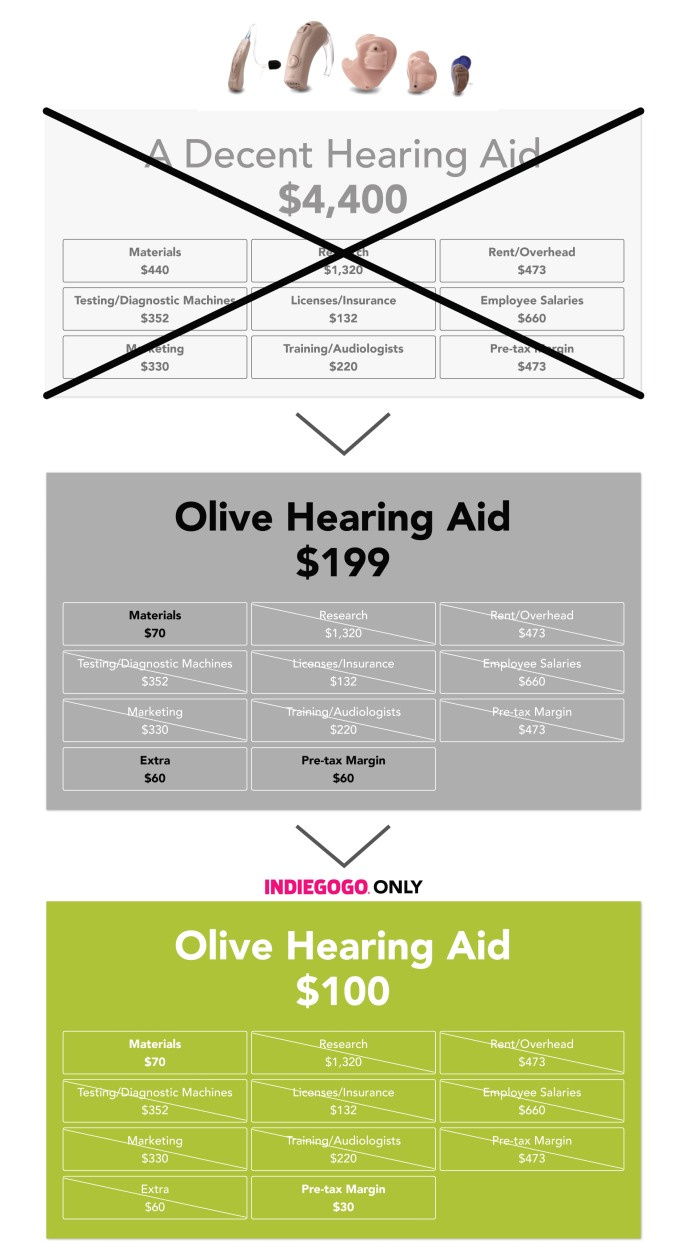 WE NEED YOUR HELP!
We kept our margins as low as possible cut out as much of the unnecessary costs as we could. Some of the largest hearing aid manufacturers spend millions on development and those costs are passed on to the customer. We are asking you to help us with this R&D and get the price down to something accessible to all.
[Testimonials]
[Olive Union: Full Presentation]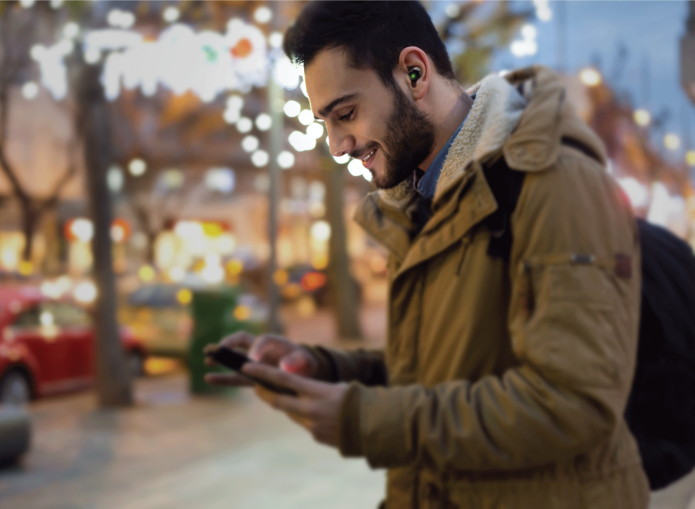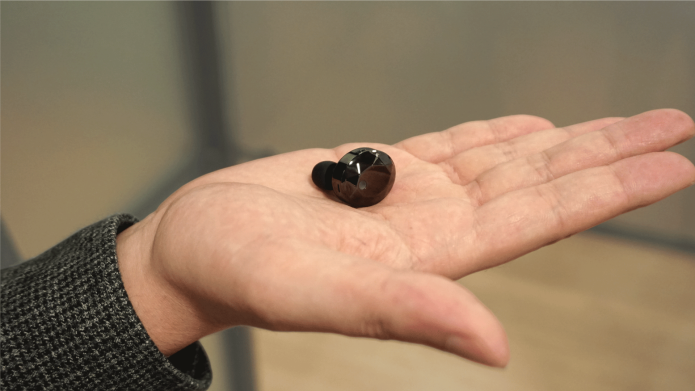 [Prototype & Hearing Test Demo]
Professional Development
Hearing aids are complex and sophisticated products, and the Olive is no different. Creating the Olive requires deep scientific knowledge and the ability to apply lab-focused research into commercially viable products. That's why we have experienced PhD's working on this project to complement our ability to bring the best product to market.

ENGINEERING PROCESS
The Olive is redefining the limits of hearing aids. We've chosen a comprehensive combination of hardware components and software features for our smart sound algorithm and Bluetooth technology.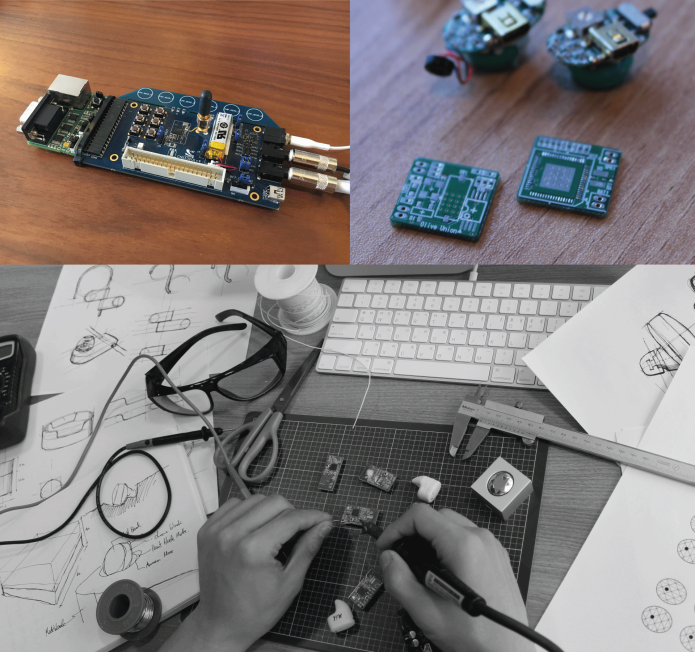 On the mechanical side, we carefully selected materials and engineered complex internal air spaces to allow for maximum sound reduction, targeted signal processing and deep bass. We ran tests in simulation on our boards and on our early models to ensure the highest hearing aid quality performance.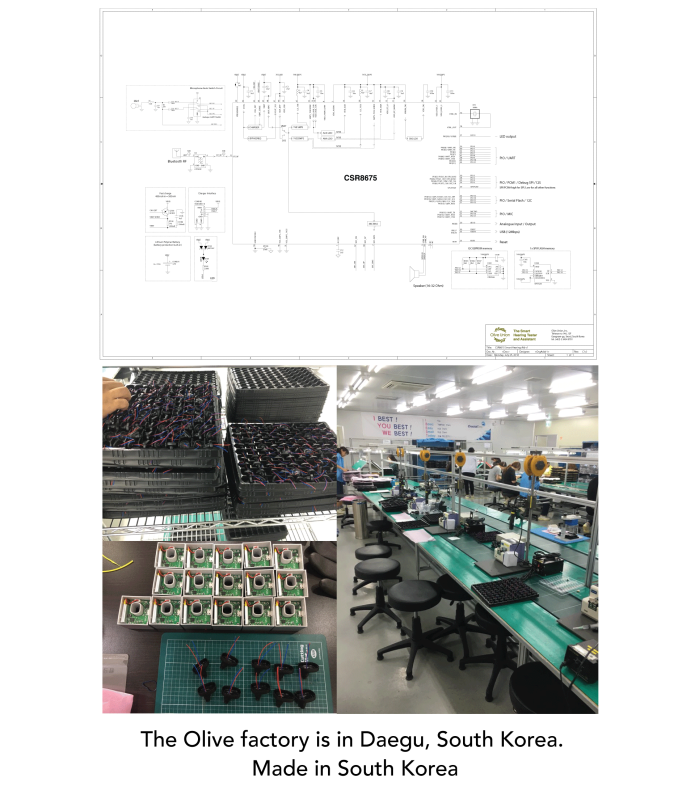 DESIGN PROCESS
Hearing aids today often advertise that they are discreet or hidden. We wanted to create a wearable that you would be proud to wear – something that's both functional and elegant. To achieve this, we developed a product architecture that optimizes battery power, efficiency, and function, all while maintaining a design that doesn't need to be hidden from view.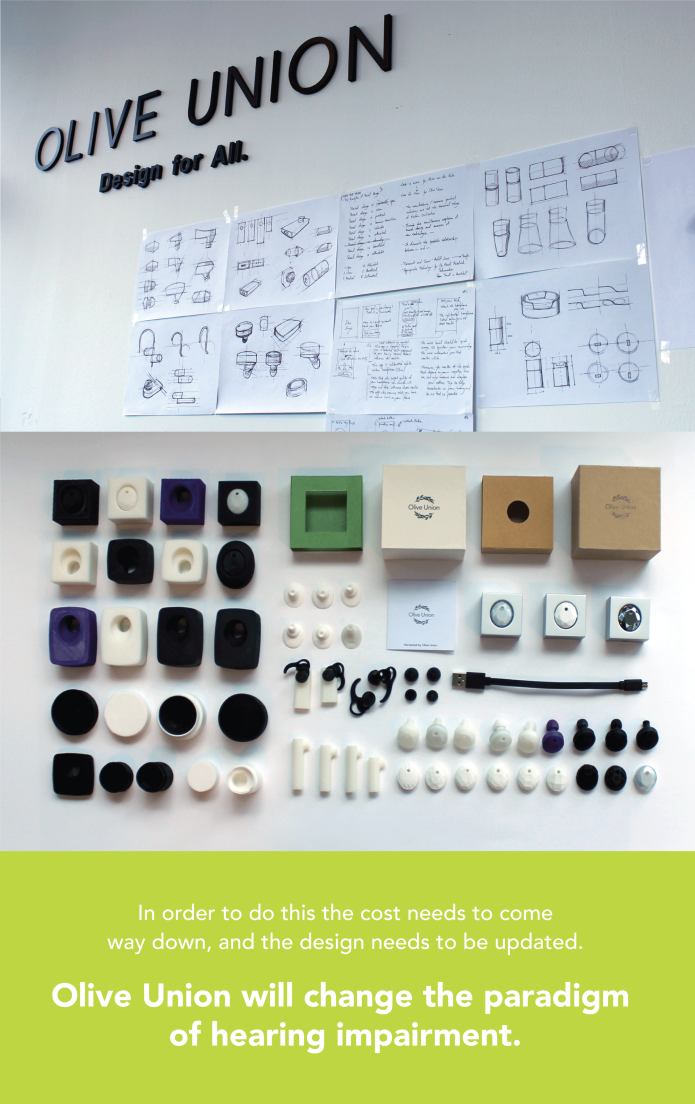 TIMELINE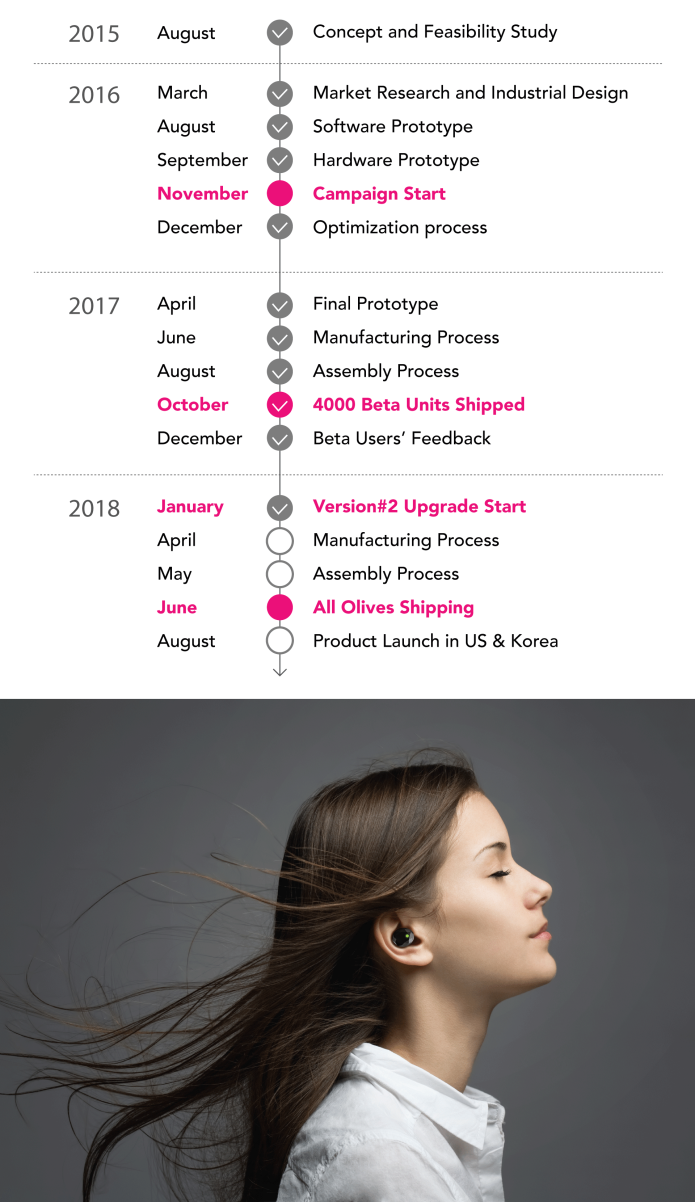 OLIVE UNION
Founded in 2016, Olive Union is an organization that specializes in smart sound algorithms and Bluetooth earpiece technology. Headquartered in Seoul, the organization concentrates on hearing interactions and intertwines everyday products with the latest technologies.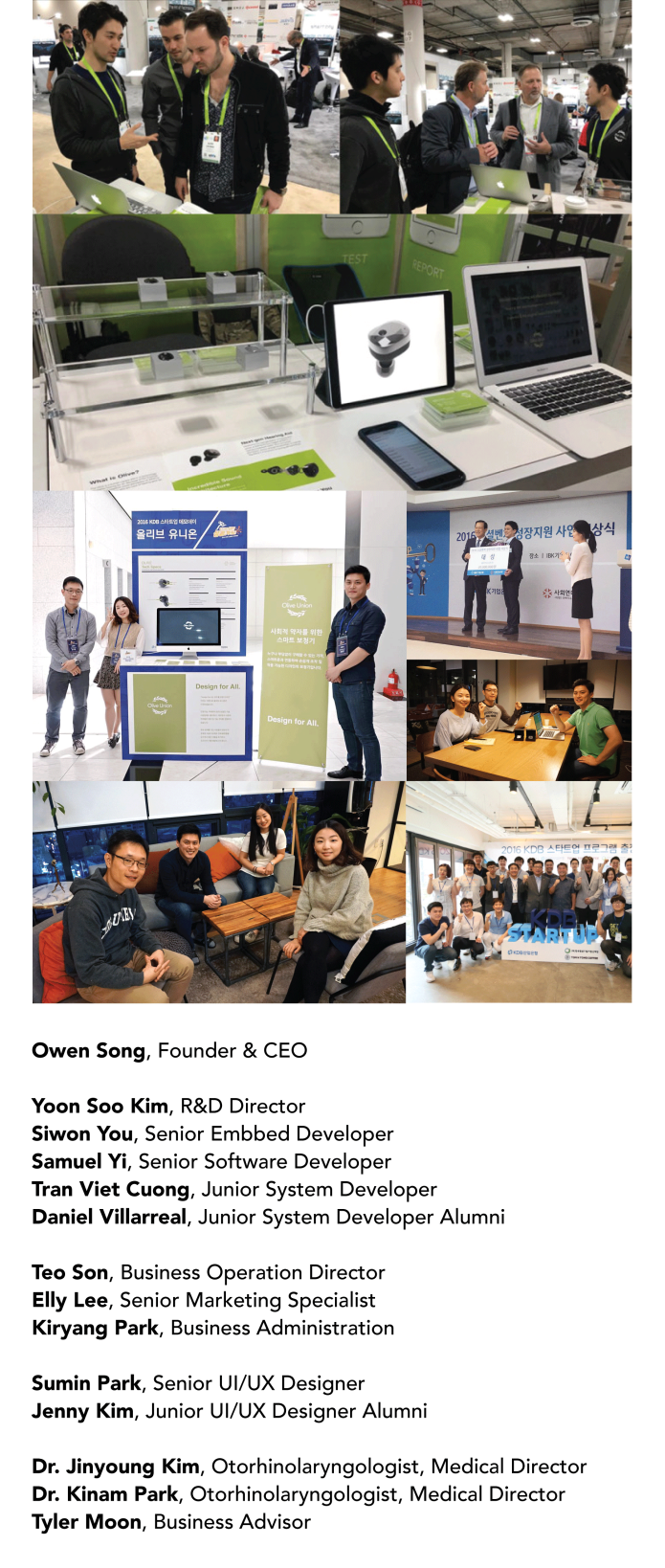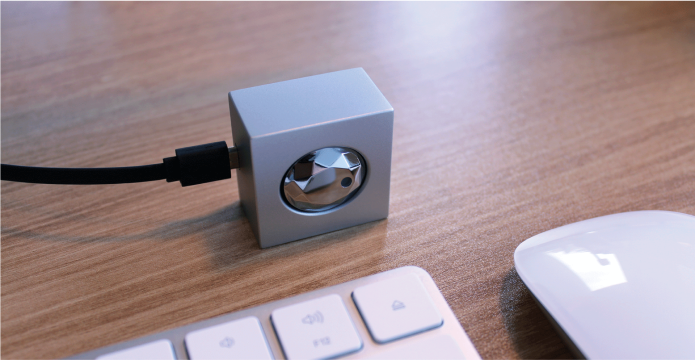 PLEASE SUPPORT US!
With your invaluable help, we will finalize all the manufacturing processes necessary for delivering your Olive. We've been developing Olive for the past year and recently finished the engineering process, and everything is prepared for manufacturing. The only thing left is to optimize and tweak the effectiveness of our algorithm so that we can surpass the current hearing aids on the market and deliver flawless hearing experiences at an accessible price.
Thank you for your support. We cannot not do this without you and the support we receive, whether a perk, sharing the campaign, or just feedback, gets us a little closer to our goal of hearing the world together.
Thank you again!

OLIVE FAQ
Q: Who is the Olive for?
The Olive is for the everyday person, not just those who are hard of hearing. We need feedback from people with all levels of hearing in order to optimize for the best hearing experience. Even those with good hearing will hear the world differently through an Olive.
Q: What do the Olives cost and how do we get one?
The Olives are available as a pre-order through Indiegogo only. Check out the perks to your right!
Q: When are the Olives available?
All Olives will ship in June 2018.
Q. How much is shipping?
$20 for worldwide shipping.
Q. When will the app be released?
The Olive's app is already released. The app will be continuously updated.
Q. Is the app free?
Yes, the Olive Union app is free for all Olive users.
Q. Does the app work for Android and iOS?
Yes, the Olive Union works for both Android and iOS operating systems.
Q. How does the Olive connect to my phone?
The Olive connects to your phone via Bluetooth.
Q. How long does the battery last?
The battery lasts approximately eight hours, and can be easily charged in its case.
Q. How to charge the Olive?
The charging case will be in the Olive package too.
Q. What are your plans for the future?
We are planning to continuously update the Olive and roll out more products aimed at creating accessibility for the world. This is just the beginning!
Q: I don't want to buy a perk but I still like your cause and want to help. What can I do?
That's awesome! We still need help sharing this project with the world. You would be helping out a lot just by sharing our campaign through social media like Facebook or Twitter and if you or someone you know writes for a blog, tech site, or any media that could help us promote our cause, that would be great! Also spread the word to your friends and family!
Q: Can I invest and are you looking for agents and distributors?
We are always excited to speak with anyone interested in joining our movement. If you are interested in getting involved as an investor, agent, or distributor, send us an email at office@oliveunion.com and let's start talking!
Q: What happens if Olive Union can't deliver?
While we have prepared and devoted countless hours into bringing the Olive to you, we are required by law to provide you the following disclaimer: "Delivery of rewards/perks are subject to best efforts and not guaranteed." In the case that, for reasons beyond our control, we are unable to deliver perks as promised, we will do our best to remedy the situation according to the situation.
Thank you.
Olive Union.