The EvoWheel is the first electric bike wheel that lets you customize your ride. Choose between different riding modes to aid with the perfect workout, your commute to work or to just chillax. Best of all, the EvoWheel can be installed within 30 seconds by simply replacing your front wheel. Endless riding thrills await!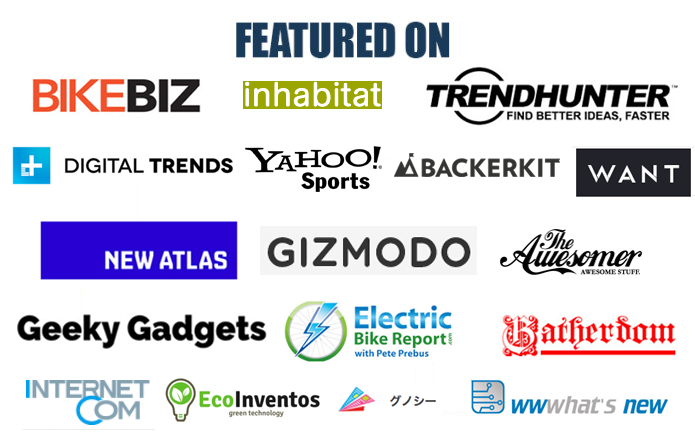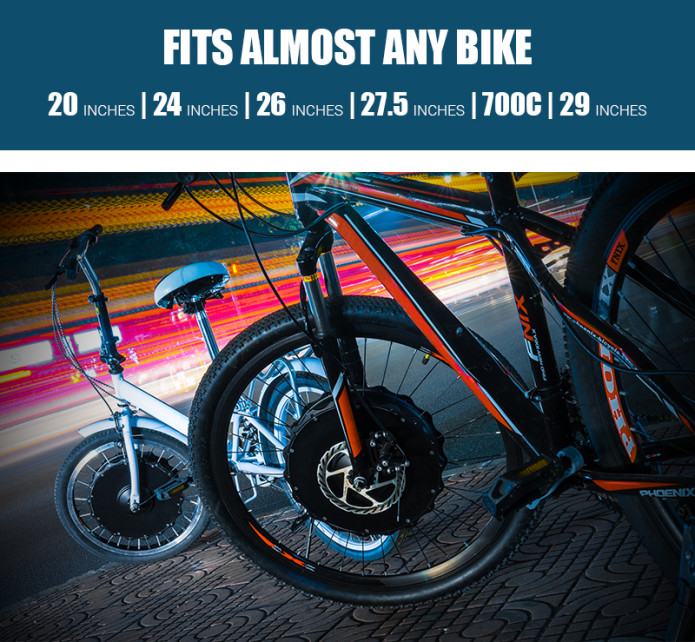 If you're wondering whether your bike is compatible with the EvoWheel, worry not! With 6 different sizes (20, 24, 26, 27.5, 29 and 700C) the EvoWheel's various models fit over 95% of all bikes. It even works with both rim and disc brakes for ultimate compatibility. Making the switch to electric has never been so easy!

Installation is also a breeze, taking approximately 30 seconds with only the assistance of a wrench required. Don't believe us? Check out this video for proof.

Everyone is slightly different, so we have ditched the one-size-fits-all model in favour of full customization.
The EvoWheel's built-in algorithm will take into consideration your weight, your bike size and your wheel size to offer the optimum amount of power specifically for you. The EvoWheel also learns more about your riding habits over time by saving your riding data and making adjustments so you have the smoothest experience possible.
Change from Traditional to eBike with a single swipe
We understand as a rider you have your own preferences, which is why the EvoWheel offers 5 different riding modes to assist you in the ways you find most pleasing.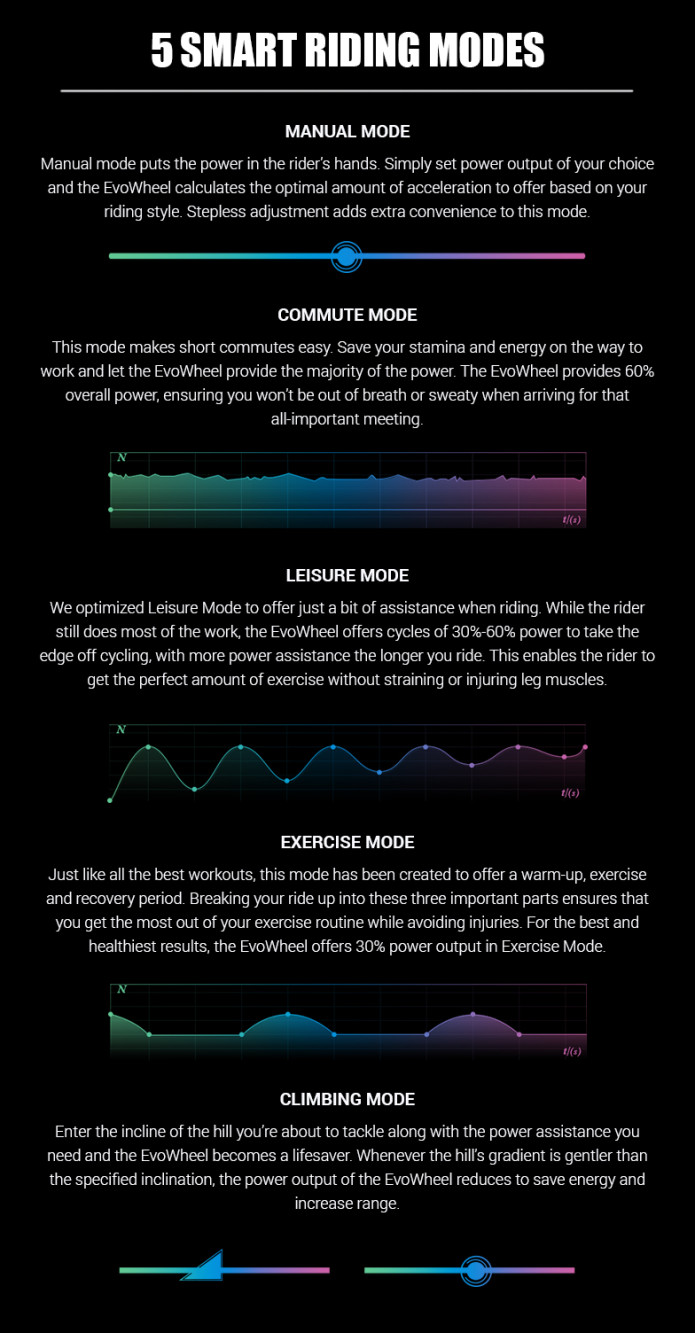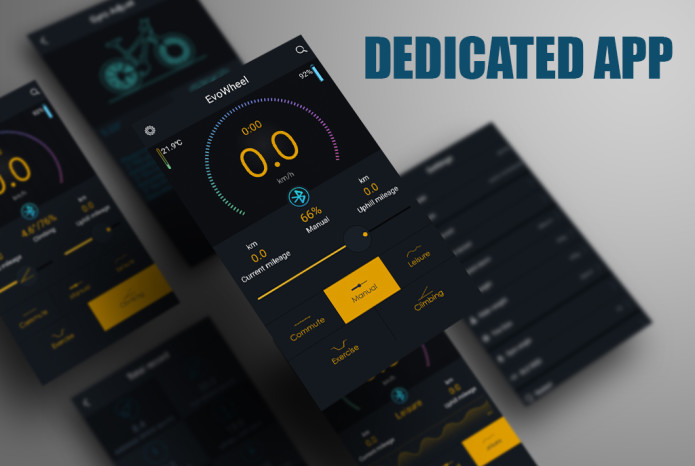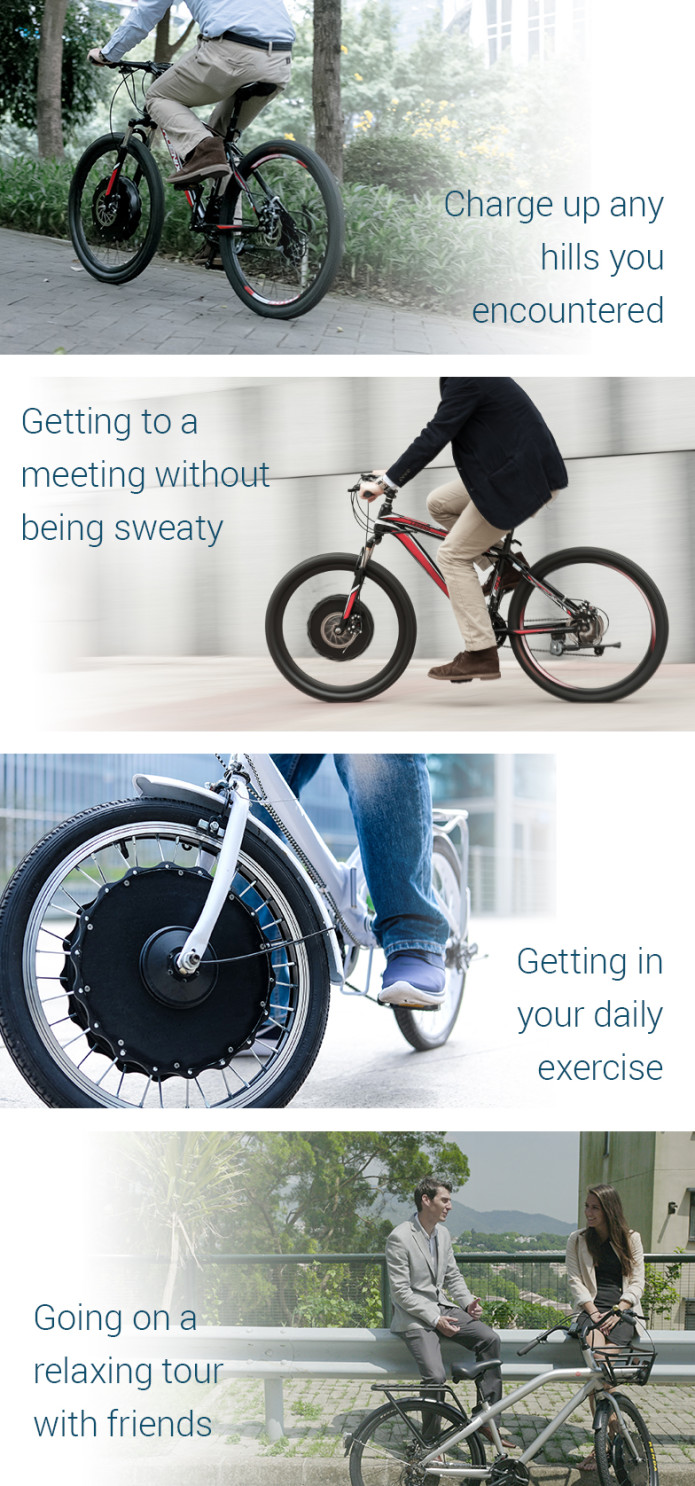 If convenience and comfort is your ultimate goal, then reaching for your phone to adjust settings may grind your gears. Thus we have created the Heads-up Display Unit, a Bluetooth compatible, bike-mountable display screen that shows you riding speed, percentage of power output, battery level, total riding distance and total riding time. You won't need to fumble with your phone any longer as the display lets you also manage your power output by tapping on it.

Not everyone has the same needs in mind, which is why the EvoWheel comes in three models: City, Commute and Touring. As their names indicate, they provide different ranges. In addition, each model comes in two variants based on which region you live in.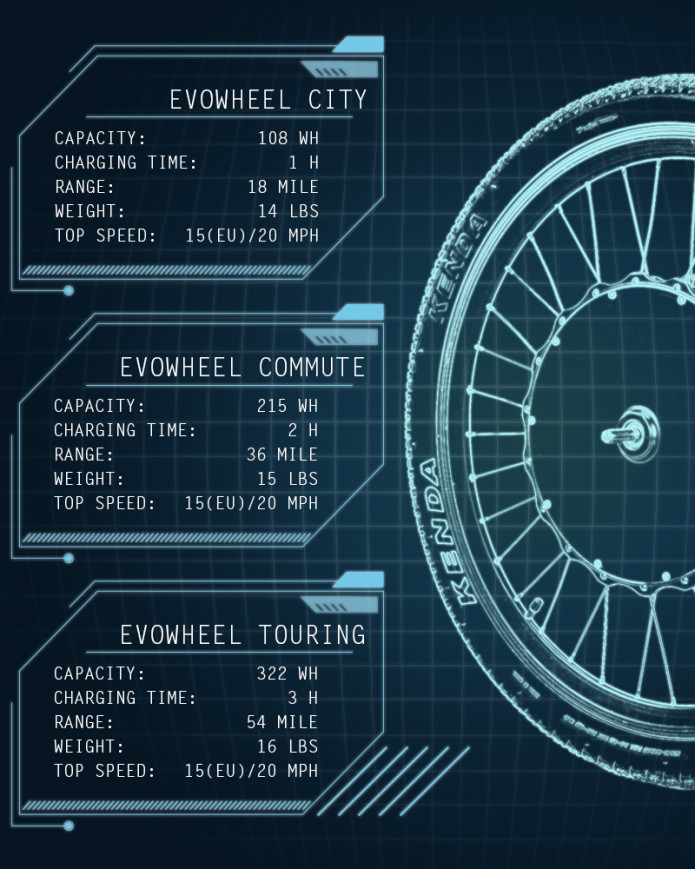 We've ensured that charging the EvoWheel is simple, easy, convenient and fast. Plug your EvoWheel in anywhere, be it at home, at work or even at a café, and in an hour you'll be completely recharged and ready for your next adventure.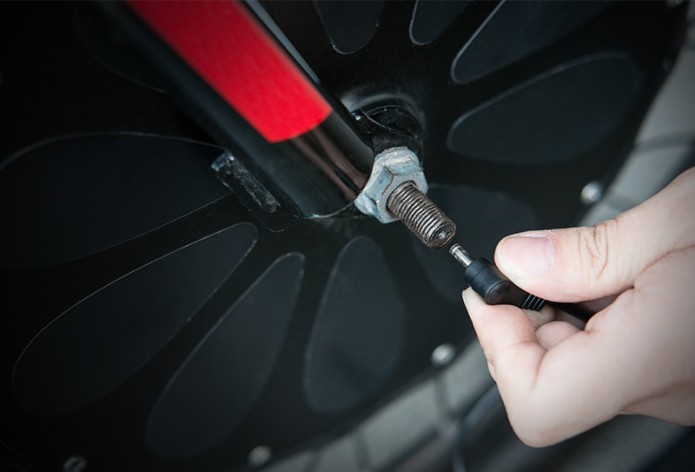 Safety is paramount when riding an E-bike and the EvoWheel is designed to keep its riders safe. You can set a speed alarm to trigger whenever you go over a certain speed so that if you get carried away, you can be reminded to play it safe. The EvoWheel is also self-diagnostic and warns you of problems it may encounter in the future.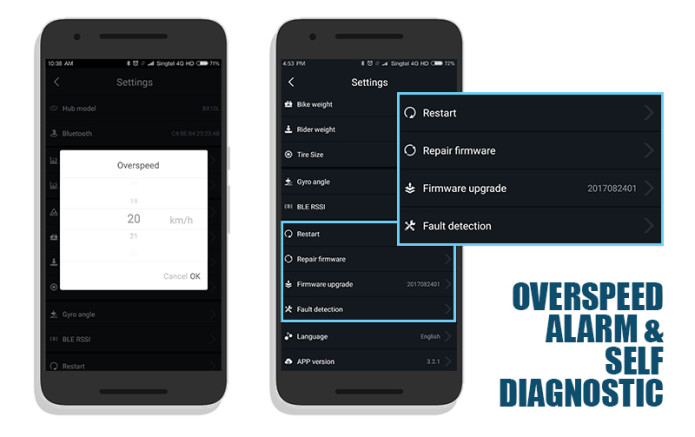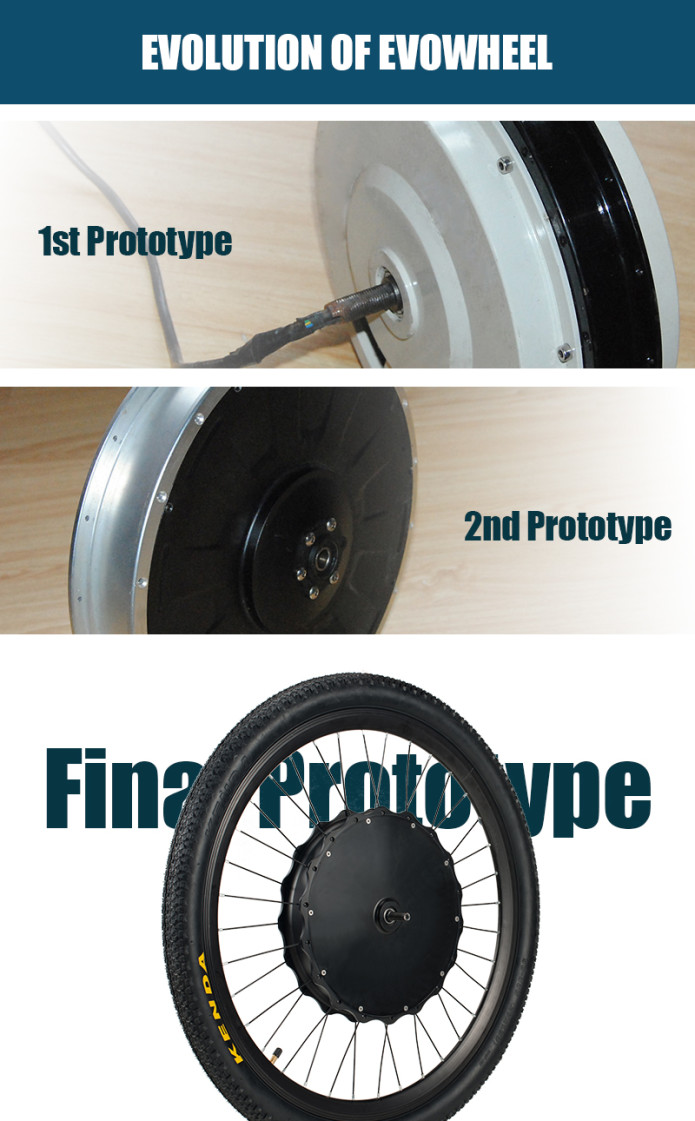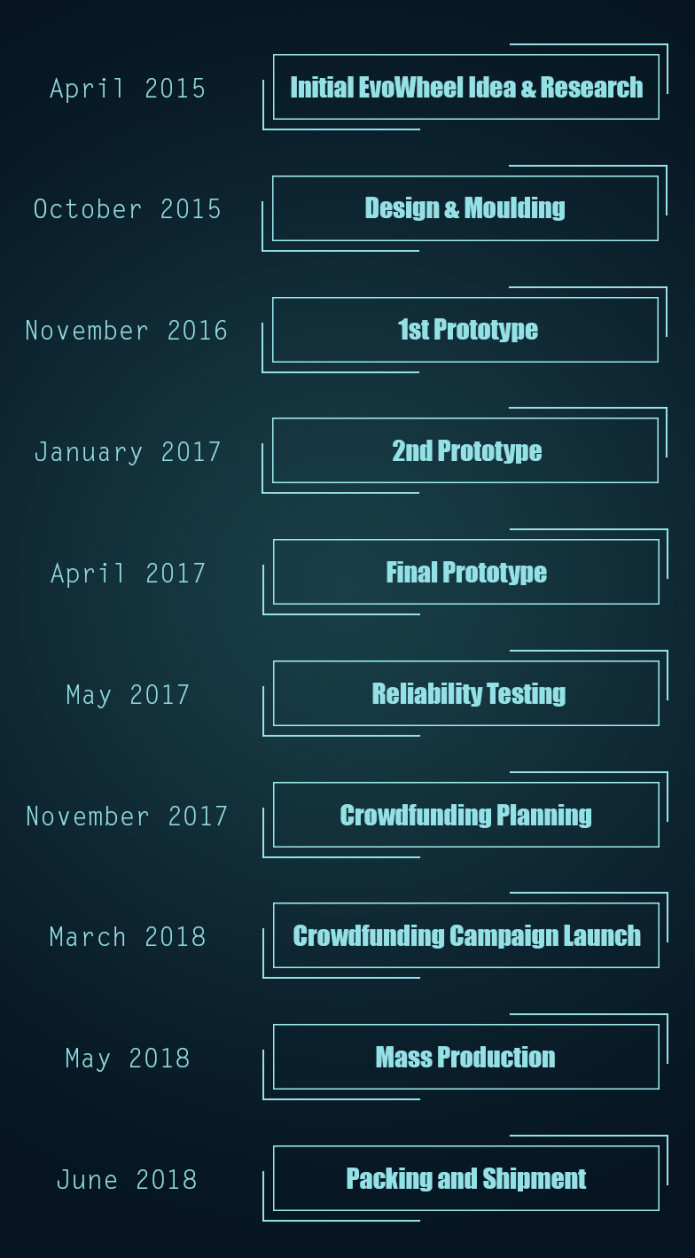 Combined our team has over 15 years of experience in designing and manufacturing electric vehicles from scooters, to hover boards, to now the electric wheel. We have our own engineers in house that design the electric circuit board and troubleshoot all the nicknacks of the EvoWheel. We also have a very solid manufacturing partners that who have over 20 years of experience in working with electric vehicles. We believe by combining our vast experience will prevents us from running into the pitfall of not being able to deliver a product on-time like other crowdfunding projects. However, while we can't foresee the future, we will ensure we keep all of our supporters in the loop as we progress through production from sourcing raw materials, all the way to taking deliveries of the batteries being used in the EvoWheel. Your trust is very important to us as a company, and we will not risk anything to break that trust.

Q: How does the EvoWheel work?
A: The EvoWheel is driven by a hub motor and engages once it detects forward momentum when you start riding the bike. You can set the power assist level before you start your ride with our APP or on the Bluetooth display unit.
Q: Will EvoWheel kick in without me pedaling?
A: No, you will need to pedal to activate the motor.
Q: Why is the delivery fee so expensive?
A: We've included both VAT and TAX for Canada and European Union. However, all supporters would be responsible for any additional TAX or VAT for their perspective countries. The delivery fee may also seem expensive because of the shipment of Lithium-Ion batteries which requires additional certifications and specialized packaging to be shipped.
Q: How does the EvoWheel work?
A: The EvoWheel is driven by a hub motor and engages once it detects forward momentum when you start riding the bike. You can set the power assist level before you start your ride with our APP or on the Bluetooth display unit.
Q: Can I use my electric bike battery together with the EvoWheel to extend range?
A: Unfortunately, you won't be able to use the battery with the EvoWheel. The battery for the EvoWheel is built into the wheel itself to save space, and provides a wireless experience for the rider.
Q: I have a bolt through axle on my forks is this compatible?
A: It would be incompatible if you have a bolt since the wheel is charged through the axle.
Q: Can I put EvoWheel on a wheelchair if the tires are the same as bike tires?
A: The EvoWheel is designed for bikes only so we wouldn't suggest putting it on a wheelchair.
Q: What standard drop spacing the EvoWheel accommodate?
A. We use the standard international drop spacing of 100mm.
Q: Would EvoWheel work for fat bikes?
A: The widest tire we can accommodate is 2.1"(54mm), which fits standard drop spacing. Since most fat bikes come with non-standard dropout spacing, it wouldn't work for fat bikes. We are however looking into introducing a fat tire version at a later date.
Q: Would EvoWheel work on a tandem bike?
A: Yes, it would work perfectly on a tandem bike.
Q: Would this work on a BMX?
A: It would depend on the size of your wheel, the EvoWheel comes in 20, 24, 26, 27.5, 29inches and 700C.
Q: Will the charging port have a dust cap to avoid dust and debris to get in?
A: Yes, the charging port has a dust cap preventing debris and dust to get in.
Q: I have a 28″ wheel on my bike, which version of the wheel should I get?
A: For a 28″ wheel size you can get the 700C wheel version that we're offering. They are exactly the same thing, just under a different name.
Q: How come I can't choose between 700C or 29in wheel?
We do apologize for this, but Indiegogo has an limit of only 5 items for each options, so we had to merge 700C and 29in together. A separate survey email will be dispatched to those who selected the 700C and 29in for you to select the correct size.
Q: What's the voltage on the charger? Is it compatible for both 110V and 220V?
Our charger is rated from 100V ~ 240V, so you can rest assure that you can charge your EvoWheel no matter where you are in the world!
Q: Is the EvoWheel Waterproof? Will sand and dirt get in the charging port?
The EvoWheel has a dirt and water resistance rating of IP65 which means it is "dust tight" and protected against water projected from a nozzle from all directions. The charging port also have an attached dust cap to ensure no debris or dirt will get in.
Q: What is the expected lifetime of the batteries and are there any warranty on them?
The batter is rated to have a lifecycle of 1000 charges. We will have a 1-year warranty for the batteries when it gets shipped out of our factory.
Q: Do I have to ship the wheel back to you for battery replacement or would I be able to change them myself?
We will be making a short instructional video after our campaign to show our supporters on how to change the battery themselves instead of shipping the wheel back to us.
Q: Is the battery proprietary, would there be issues for me to find replacements in the future?
The EvoWheel uses the common 18650 lithium battery which can be easily sourced nearly everywhere in the world nowadays.
Q: Is it possible to replace tubes, tires or spokes by myself or at a local bike shop?
The tubes and tires that come with EvoWheel are all standard international sizes which can be easily found in any local bike shops. The spokes are however customized and can be ordered from us at a low cost.
Q: Where can I download the App?
The App will become available on the Google Play store and the Apple App Store shortly before we start shipping out the EvoWheel.
Press and Media
Interested in writing or featuring EvoWheel on one of your upcoming articles or review? You can find a copy of our press kit here, high quality images here, and press release here. Feel free to reach out to us to chat more at info@evowheel.bike.