You can still get your dBuds to 8% and 16% and 24% discounts (Single set, 2- pack and 5- pack).
In less than ONE week from now, we move on to full retail prices. More info here.
TESTIMONIALS

WOHOO! WE HAVE STARTED SHIPPING!
See the first reviews on our Facebook from the first happy people with some very happy ears.
dBUD MAKING HEADLINES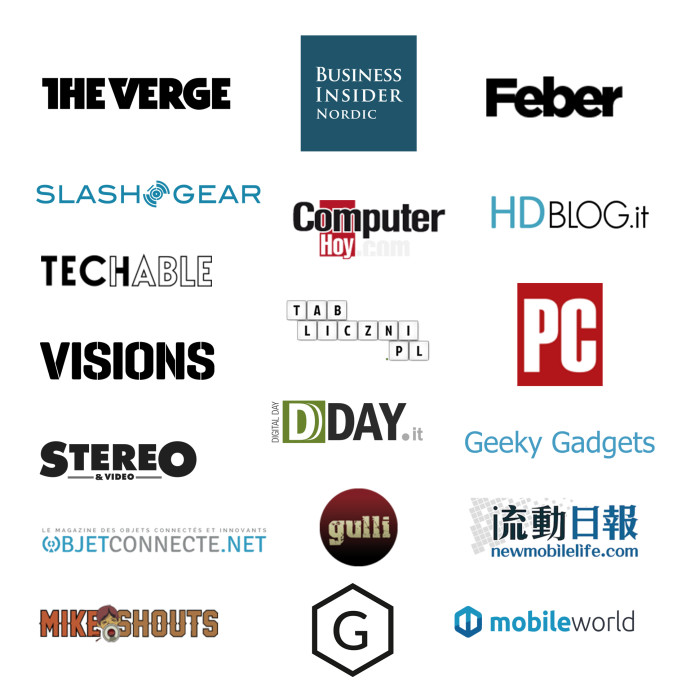 THIS IS dBUD
Whether you're a musician, concert goer, DJ, bartender or kindergarten teacher, dBud can help improve quality of life through protecting your ears while giving you a better experience hearing your environment.
Designed for everyday life, dBud earplugs are the perfect companions for anyone with a need to tone down the volume of your surroundings.
dBud's two stage volume slider enables you set the appropriate attenuation for your environment. In open position noise reduction is about 15 dB and in closed position about 30 dB.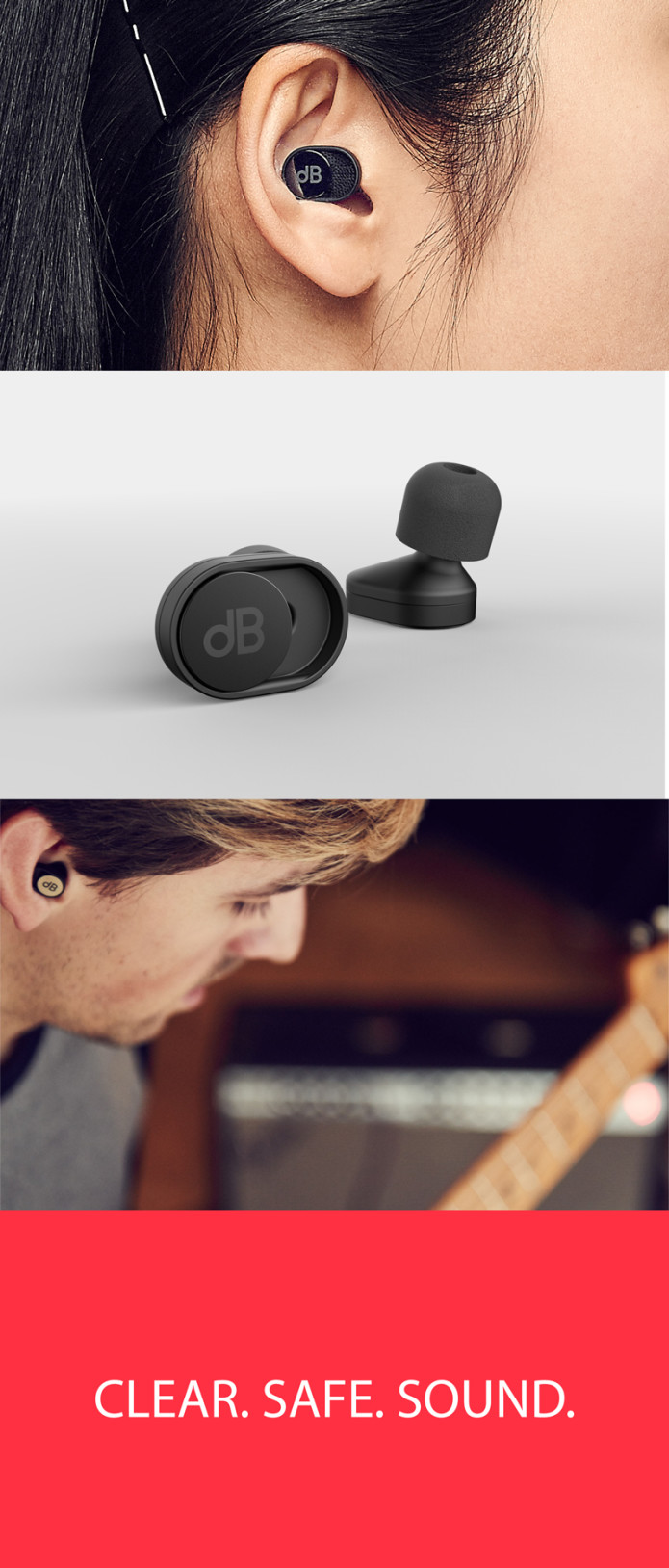 ALWAYS WITH YOU
The best earplugs are the ones you carry with you, so we made it easy for you to bring dBud wherever you go. Wear them in style around your neck, ready to use wherever you are. Or in your pocket using the sleek carrying case.
With built in magnets dBud snaps easily around your neck.
dBud's neat carrying case easily fits in your pocket.

THE MAGIC BEHIND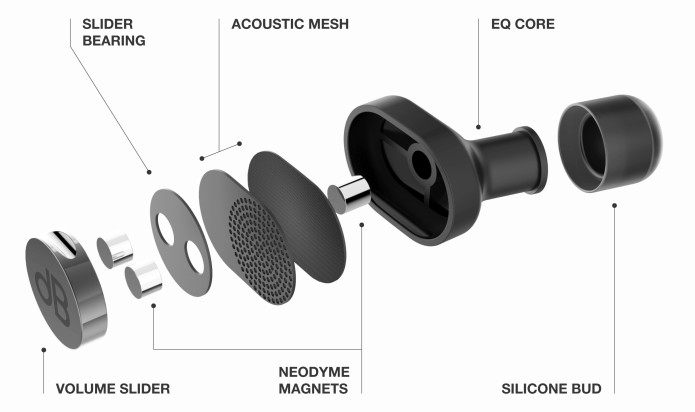 To achieve clear sound with precise noise filtration our engineers developed a unique solution consisting of three main components – an acoustic mesh, volume slider and eq-core. There are no electronics involved, it's a purely mechanical design. The benefit – no circuit boards that can break down and no batteries to replace. It just works, always.
The human ear is designed to naturally amplify frequencies around 2-4 kHz, i.e. human speech. When using ear plugs in general you fill out the void in your outer ear and remove most of this natural amplification. With most other earplugs you'll notice this as the surrounding sounds becoming muffled and unclear.
dBud gives you retained clarity of hearing, with adjustable volume.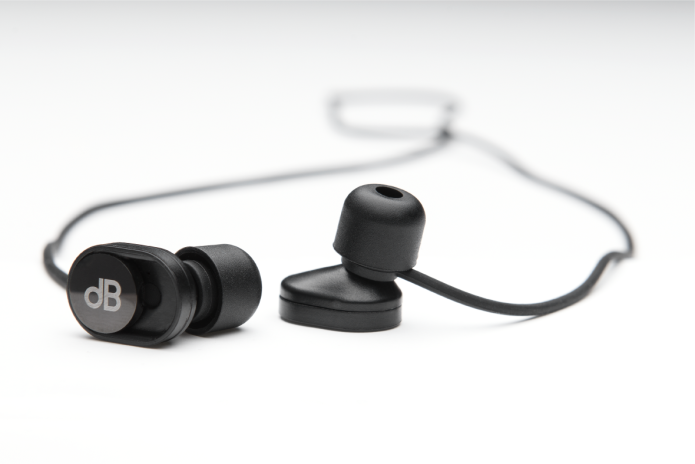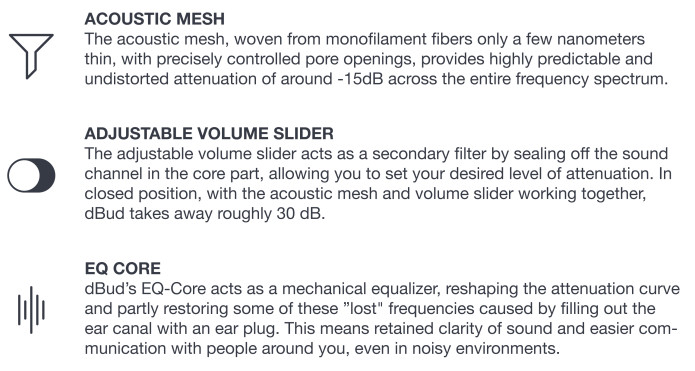 WHEN LIFE GETS TOO LOUD
JUST PLUG IN AND TUNE OUT
A simple slide and dBud lets you set the volume of the world around you. Quality of life at your fingertips!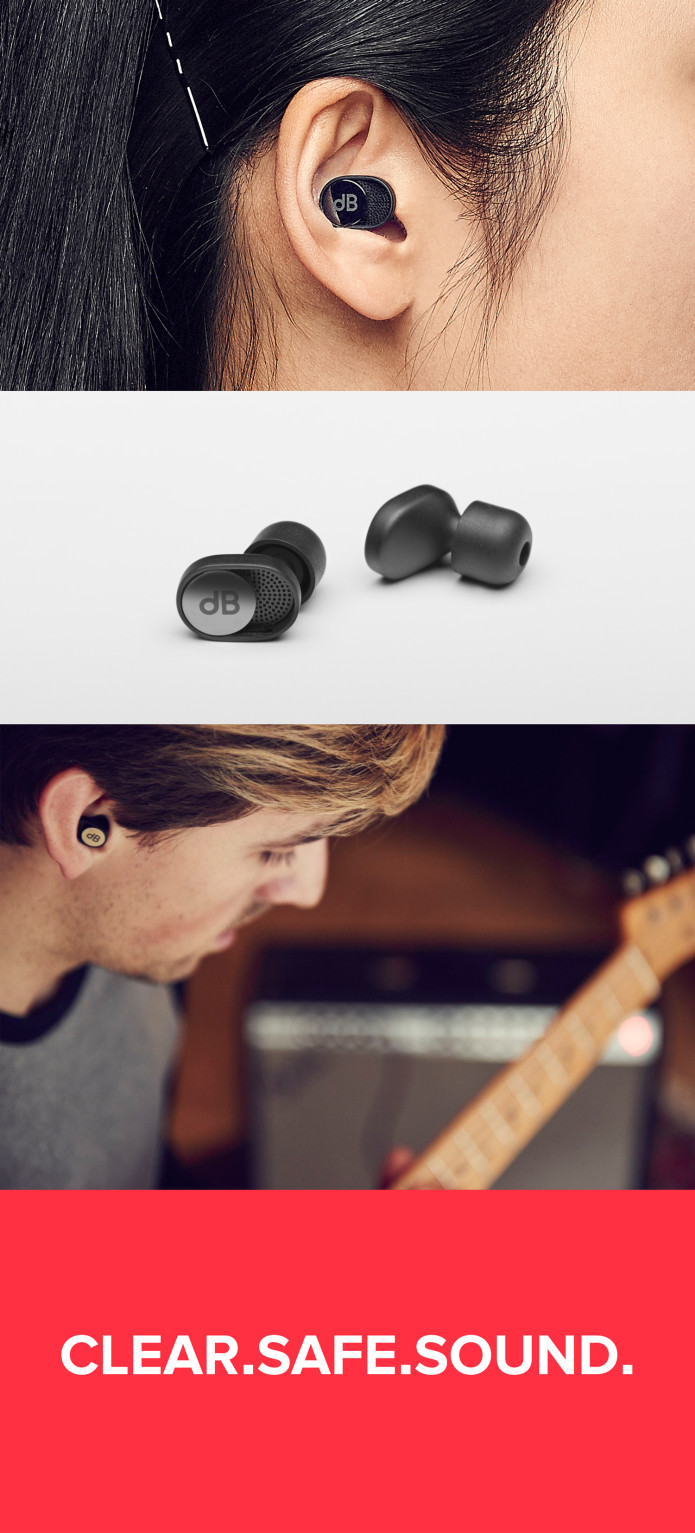 Featuring an advanced acoustic filter and volume slider, dBud is an ear plug designed to protect your ears from harmful noise while giving you a crisper, clearer listening experience. With the slide of a button you can adjust the amount of decibels you want to filter out, allowing you to set the appropriate sound level for your environment. dBud simply brings you clear, safe sound!
SO WHAT? WHY EARPLUGS?

Noise pollution is a global and rapidly growing issue. Consistent elevated sound levels, whether at work or in your free time, can cause problems like hearing impairment, hypertension, ischemic heart disease, annoyance and sleep disturbance. Add to that constant headphone listening, often at levels set to exceed the noises around you, and it's no wonder as many as one billion young people worldwide are at risk of hearing loss.
SAFETY FIRST
In open position dBud reduces the perceived volume with around 65% and actual sound pressure with as much as 97%. In closed position the perceived volume reduction is about 87.5% and actual reduction of sound pressure as much as 99.9%.
Due to a logarithmic relationship, increasing volume with as little as 6 dB will double the sound pressure exerted on your ears. Your ears however, will perceive a doubling of volume for every 10 dB increase in sound pressure. It's pretty clear that wearing ear plugs make a huge difference to the safety of your ears!
UNBOXED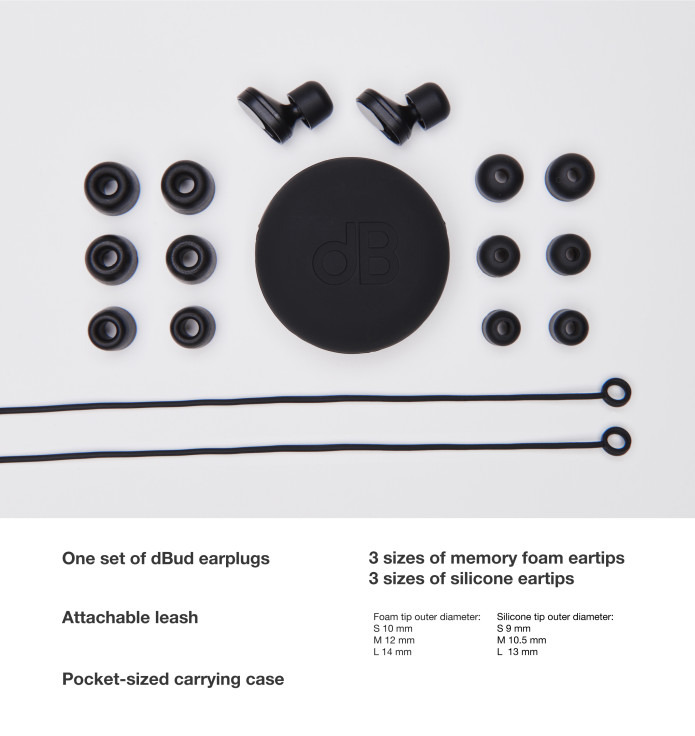 EARTIP TRICKS
How to insert the plug correctly and comfortably in your ear:
6 pairs of silicone and memory foam ear-tips are included so that you can find a comfortable size and fit.
dBud is not designed to reach very far into the ear-canal. Instead, the eartip should be inserted only in the entrance of the ear-canal. With the correct choice of the size of eartips, dBud will seal sufficiently, without being pushed in too far.
Squeeze the foam tips before insertion. Then gently push the plug to the entrance of the ear-canal, while at the same time twisting the plug slightly.
The foam tips expand after insertion in the ear and provide a slightly better seal and higher attenuation than the silicone tips.
There are three small circles on the neck of the plug, and the two outer circles enables two different positions of the eartip, so that you can make small adjustments to how far into the ear you want the eartip to go. Do not push the tip fully down to the most inner circle that is closest to the plug body, because then the end of the neck is close to sticking out from the eartip, which is probably not very comfortable for you. The eartip should fully cover and cushion the hard plastic neck.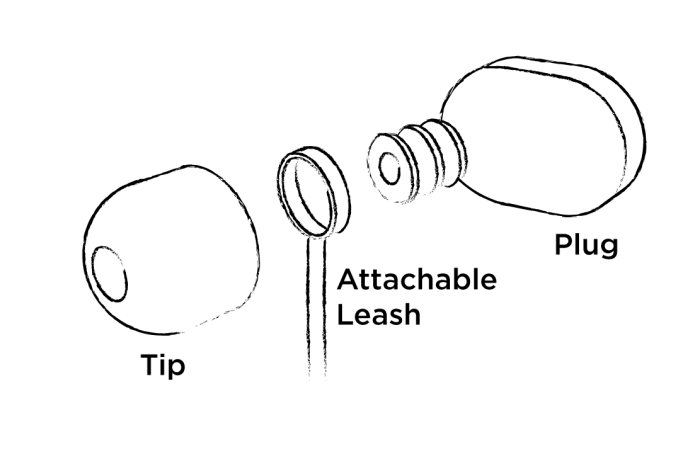 How to securely remove the eartips from the plug:
dBud eartips are long-lasting so please take some extra care when you remove the tips from the plug.
The three small circles on the neck of the plug, securely position the tips and the leash. Therefore, do not pull the tips straight off the plug, because then they risk breaking!
Grip the eartip with three fingers. Slowly pull and TWIST the eartip of the plug. This applies to both the silicone tips and the foam tips, but it is even more important for the foam tips, because of the little inner tube that can release from the foam if pulled too hard, and without the twisting movement.
DESIGN PROCESS
Already from the start, our goal was to create an earplug that would be both functional, beautiful and comfortable enough to wear all day. An earplug that you'd be proud to wear, whenever and wherever you go. We wanted a design slim enough to fit inside of your ear without protruding, and despite its small size still be iconic and fashionable. We were intrigued by the challenge of disrupting status quo and reshape the idea of what en earplug should be like. We couldn't be more proud of the end result.
dBud was designed around beautiful simplicity, with clean geometrical shapes enhancing its functionality, while the interior structure reveals a complex combination of materials and acoustic chambers powering its great performance.
All ears are different, even on the same head. They come in all shapes and sizes. This starting point was a great challenge when developing dBud, especially since comfort and secure fit were key priorities.
We're working closely with ABOVE, Europe's leading agency within design and development of consumer products, providing access to world class product designers and engineers and allowing us to scale our team and competencies on demand.
MEET THE TEAM
We're Ear Labs and our mission is to protect your ears while giving you a safer, clearer and more personal listening experience. Our team has an extensive background in design and development of consumer electronics, and acoustic products in particular.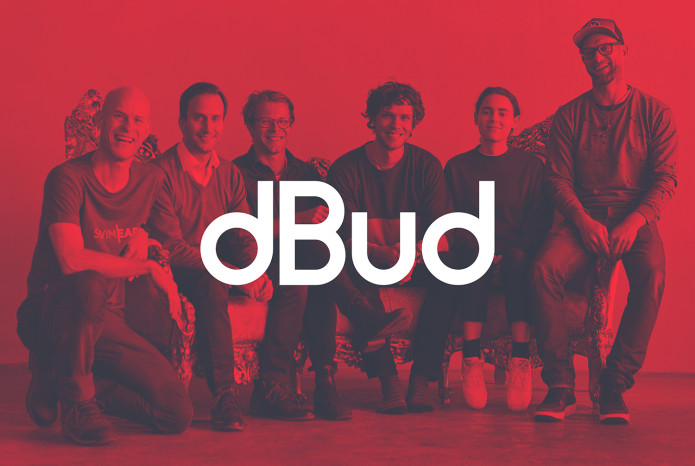 We've collected more than 25 years of experience working in big companies like Nokia, Sony and Samsung. We have the knowhow and network, tools and processes in place to take products to market on time and at the right quality.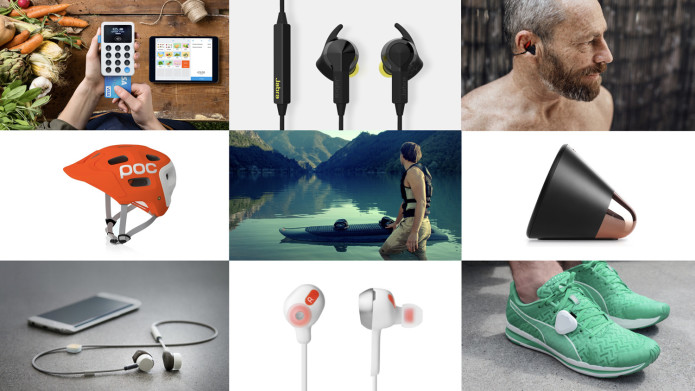 We're working closely with ABOVE, Europe's leading agency within design and development of consumer products, providing access to world class product designers and engineers and allowing us to scale our team and competencies on demand.
By sharing this project you will help us protect the ears of thousands of people around the world, while providing them with a crisper, clearer listening experience!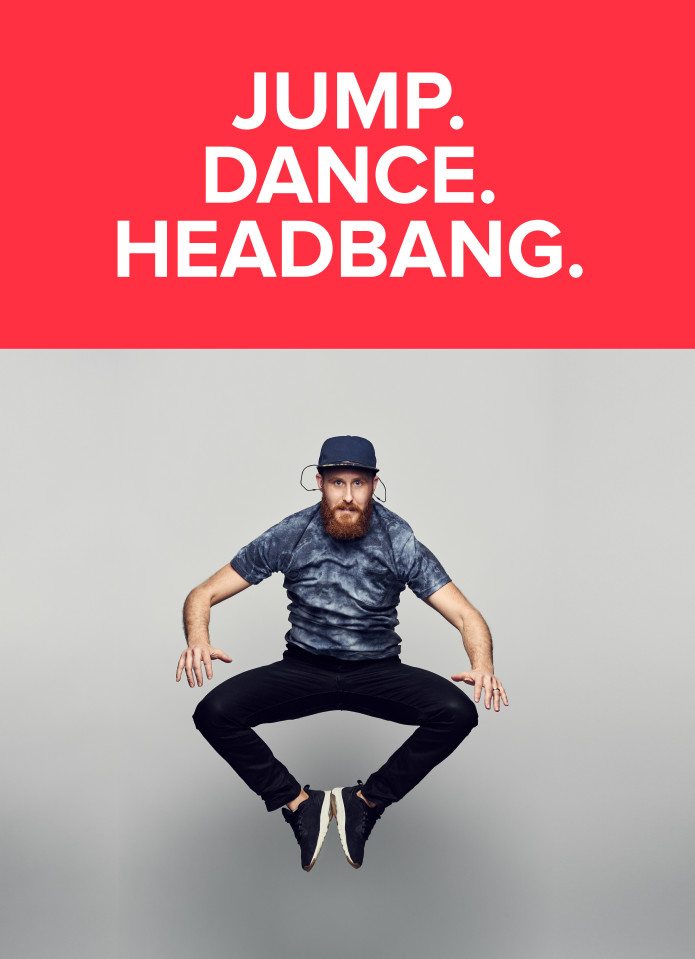 FOLLOW DEALS
AND UPDATES