Inspired by the B-2 Stealth Bomber military aircraft, the B-2 Bomber Nano Blade from Bomber & Company is a compact pocket knife offering a fully-locking blade with both smooth and serrated edges.Both the blade and body are made from heat-treated 440C stainless steel, anodized in jet black, and the black beauty weighs in at less than an ounce.
Miniature tactical pocket knife that can endure the toughest daily tasks and also small enough to carry without notice.t's small enough to carry on a keychain and might be the most perfect everyday carry knife ever created.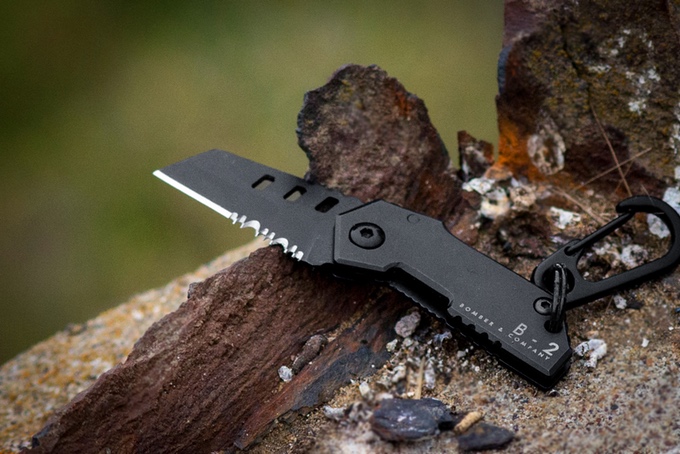 All of our Bomber & Company products have a military design and tactical aesthetic. The B-2 Nano Blade is engineered to hold durability and functionality similar to military grade equipment .The blade is split with a serrated teeth edge as well as a sharp edge. The sharp edge is perfect for thin sharp precision slices whereas the teeth is perfect for tougher materials like wood. The B-2 Nano Blade uses the "Great American Tooth" pattern much like in traditional crosscut tree saws. The pattern was designed specifically to saw and rake wood fibers. The blade is also perforated to allow cutting and slicing of materials to not stick onto the blade itself. It provides a cleaner sharper cut.
The non-serrated part of the blade or precision cut blade is flat ground.As flat ground blade is versatile for most people's daily use of an every day carry. The serrated part (teeth) of the blade, however, is a chisel ground. Although the knife is very small, it was engineered to be very tactical. The versatility of both blade styles give it an advantage over every other small pocket knife. Discrete concealability is the definition of the B-2 Nano Blade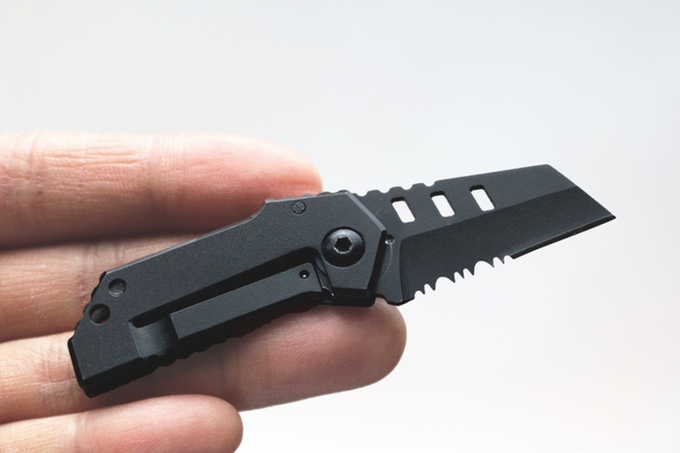 The ultralight weight of the B-2 Nano Blade comes in at less than 1oz making it the world's lightest, fully functional, 440C black stainless steel tactical pocket knife.