Scene-Based Setting Optimization
With the enabled algorithm, Aurga is built with an intelligent system that tells the DSLR the best configuration settings in light conditions.
Aurga makes it super easy for you to shoot many types of photos. We analyzed hundreds of thousands of photographs to determine the optimal settings for shooting conditions and Aurga's powerful intelligent system instantly gives you 6 quick options for common needs with a single button push.
Since its database is constantly being updated, you'll always have the right technique for any shot.
Aurga allows photographers to bridge multiple cameras. With a single app, photographer could control many cameras to view live images, set camera settings and shoot photos.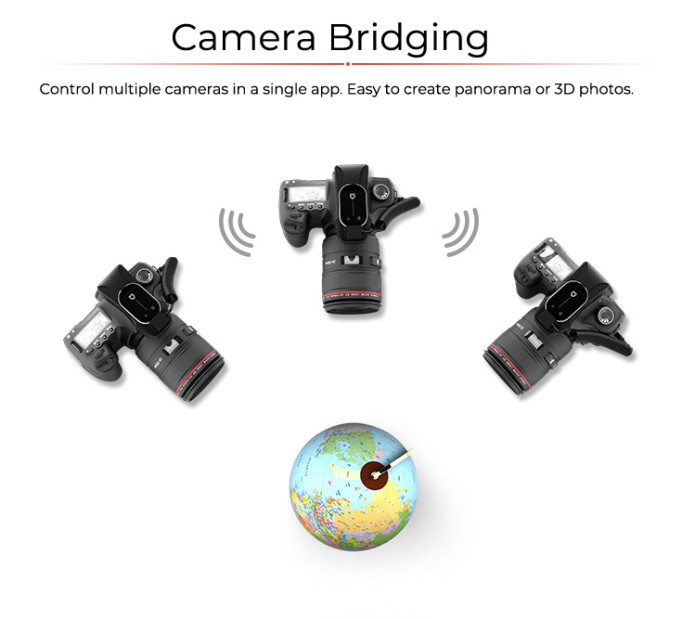 Aurga helps beginners learn the fundamentals while being a valuable time saver for professionals. For time lapses, experienced users can expose for changing light by the hour or even by the minute. And for beginners, it has pre-set modes for a variety of situations. You can preview your timelapse when it's finished and export a video directly from the app.
Aurga can even capture scenes with High Dynamic Range. It takes 3 photos at different exposures and combines them into a single deep, highly detailed image.
Aurga calculates the optimal number of exposures, takes them at different focus positions, and merges them into one crystal clear image.
Aurga can control your DSLR from up to 100 feet (30 meters). You can do anything easily on the App screen and shoot exactly what you can see. Shooting remotely will also reduce the impact of handshaking and allows you achieve better photos.
Aurga has a storage management system and also supports up to a 256GB memory card. Therefore, you don't need to worry about the camera storage when shooting high-resolution photos or videos.
What`s more, with Aurga there is no need to upload the photos to a laptop first and then share to social networks. Simply click the share button directly from the App and that`s all.
Aurga is a TF/micro SD card reader on PC or Mac. Insert the USB port to computer, you could easily access your photos or files.
While shooting perfect photos in the outdoors it's important to stay connected. If you need to charge your phone, Aurga can help. It contains a 2600 mAh battery built-in that can be used as a battery backup to charge your devices.