BackerPlanet Member Exclusive Deal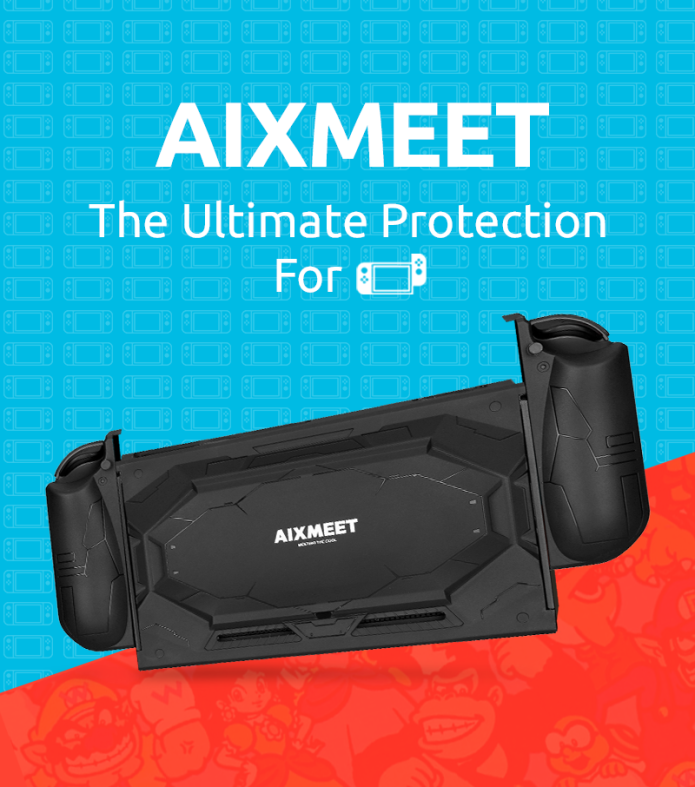 The Aixmeet Case is the ultimate way to protect your Nintendo Switch! Encasing both your Nintendo Switch and Joy-Cons, it solves the biggest annoyance of current cases – not addressing the Switch as three separate parts. With the Aixmeet you can detach your Joy-Cons without removing the case and exposing your Nintendo Switch, so you can play with your friends safely. The case is totally enclosed in a high-grade TPU shell making it dust, splash and drop-proof while keeping it ergonomic and comfortable to grip. And it comes with 2 solid kickstands so you can set it up anywhere.
The Aixmeet Case encases both your Nintendo Switch Joy-Cons and allows you to detach them for play whenever you need to without any hassle, so when you want to play with a friend there is no removal of the case to get to the Joy-Cons.
Don't just keep your Switch protected, protect your controllers as well.
The Aixmeet arrives with 2 solid kick-stands on the back of the case to keep the console upright anywhere while you game away. Trust it to stay upright everywhere you find yourself, from the the coffee shop table to the airplane tray.
Protecting your Nintendo Switch fully is exactly what the Aixmeet does by fully enclosing it in a high-grade TPU plastic shell to protect both your console and your Joy-Cons.
Built to be ergonomic and comfortable to grip so you can game for hours without your hands becoming tire
Using high-grade environmentally friendly thermoplastic polyurethane, the Aixmeet is dirt-proof, splash-proof and drop-proof while also protecting against scratches to keep your Switch in perfect condition. Never worry about your kids dropping their Nintendo Switches and breaking them ever again!
The Durability of TPU
The Thermoplastic polyurethane (TPU) Aixmeet uses provides high tension, high tensile strength, toughness, is an environmentally-friendly material, and is skin friendly.
The Aixmeet is extremely easy to put on your Nintendo Switch and to remove, taking only ONE second to take the Aixmeet protective case off, and you won't have to remove the Joy-Con's case off to do it! This also makes it extremely easy to dock while keeping your Joy-Cons protected.
Resources from Indiegogo
BackerPlanet Member Exclusive Deal