As photography lovers, we are always looking for new techniques to create the most creative and stunning photoshoots. To achieve that, we first needed to take control of the most important asset in photography, the light.
Light Painting is a technique in which exposures are made by moving a hand-held light source while taking a long exposure photograph. You may think that it is easy, but it isn't, a lot of patience and accessories are needed to master this technique. So we thought, why not make it easier?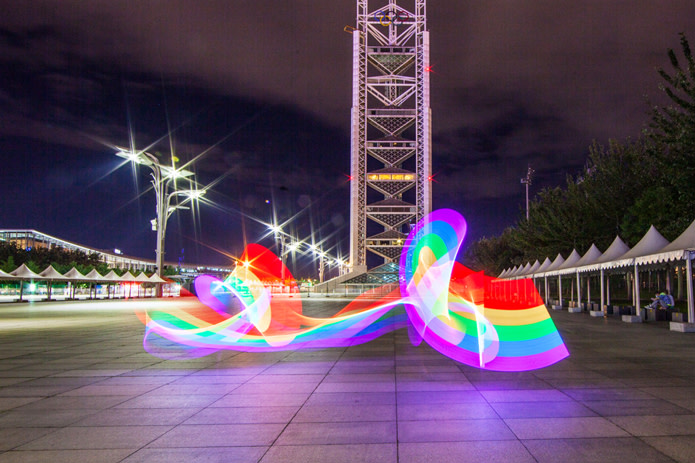 After a lot of thought, we came up with the idea of an all-in-one light painting stick, Magilight. The easiest and most professional tool to improve your light painting photography. Create stunning photographs, print your designs, animations, backgrounds and more at the reach of your hand.
No more light bulbs, flashlights, light cords or any other light source will be needed thanks to the 144 High-resolution RGB LEDs. With Magilight just click and wave, the stick will do the rest.  The effect will totally astonish you.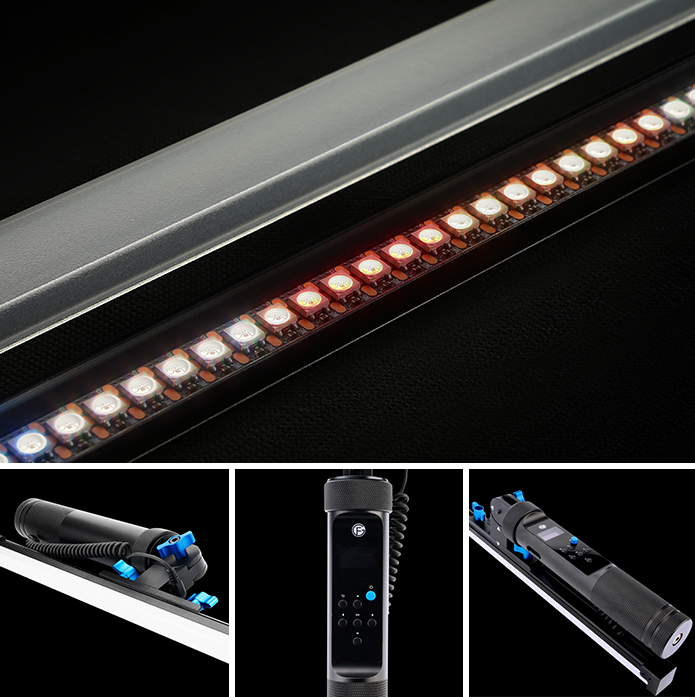 "There are endless options that go well beyond what's possible to achieve with the tubes."
Beta Review by Eric Paré
"It'll have a permanent spot in my gear bag! Highly Recommended."
Beta Review by Zach Alan

No matter what you want to create, Magilight is the perfect tool. With a fully equipped design, it offers you more effects and functionalities than any other light painting accessories, yet is delightfully simple to use. It will totally unleash your creative imagination.
Discover more than 15 million colors in one place, with the 144 LED light bulbs.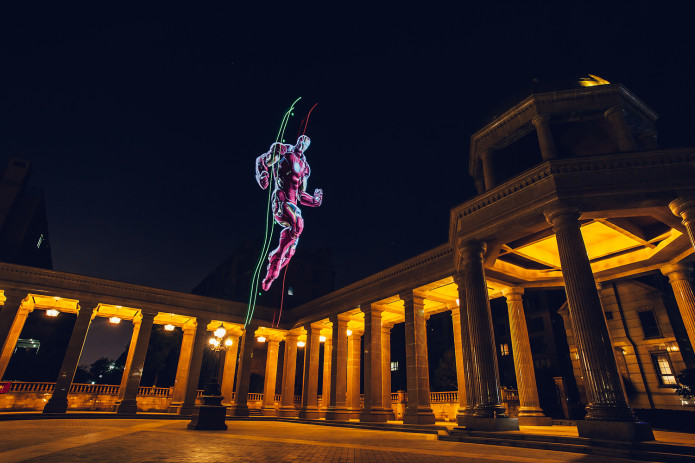 Thanks to the screw hole, Magilight is compatible with Drones and diverse accessories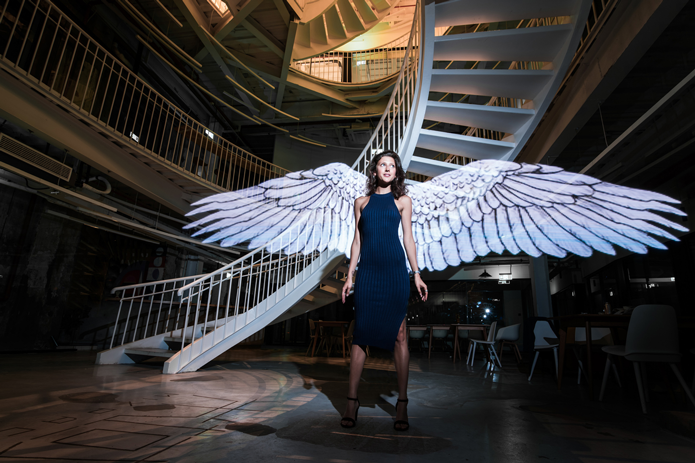 Print your favorite images and unleash your creativity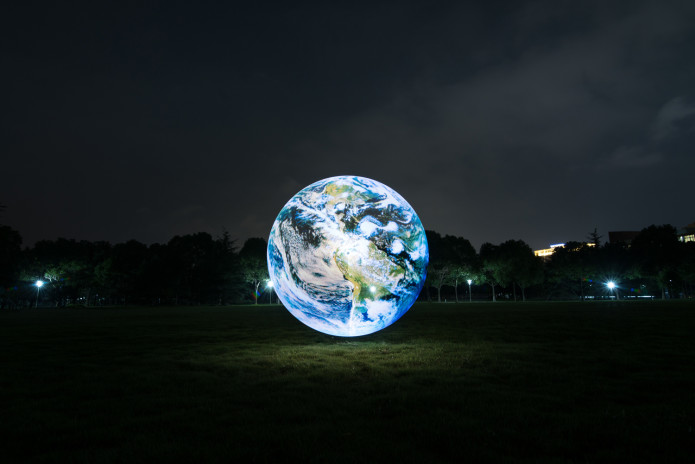 With the barrel rotator. Create and print easily perfect geometric shapes.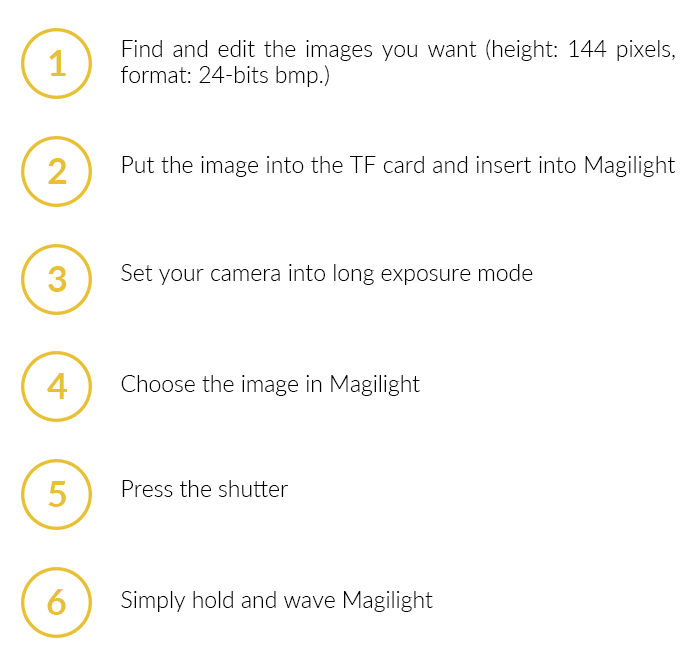 For other designs and pattern, click here:  http://bit.ly/2Dizjm1


Magilight has various modes, which helps you to create easier and more. The animation mode helps you create an animation without choosing the picture one by one when you shoot the images. Put the animations into a folder. Turn this mode on, after finishing one shot, just press "OK", it will start to display the next image automatically.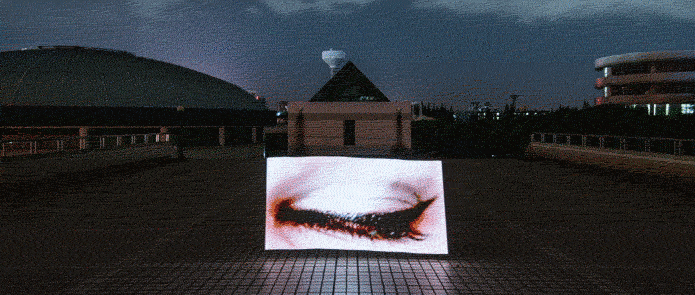 Using the "Blink" mode allows you to get a special flashing light effect for your photograph. By adjusting the "Blink" value, you can control the frequency of the flicker. You can control the brightness during the flickering by adjusting "BlinkLevel" value.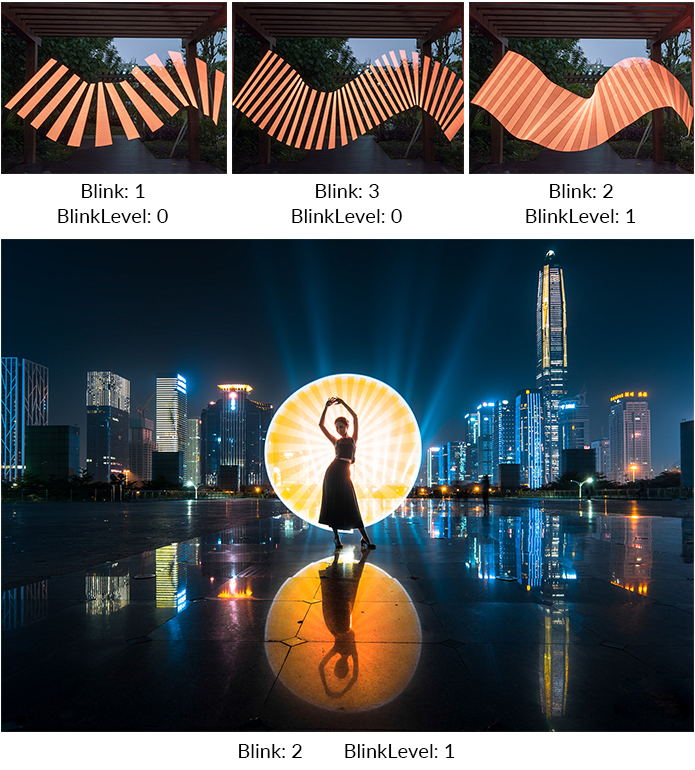 With the adjustable light function, you can control the brightness, warmth and RGB values. You can also use Magilight as a colorful background light source to create the great effect.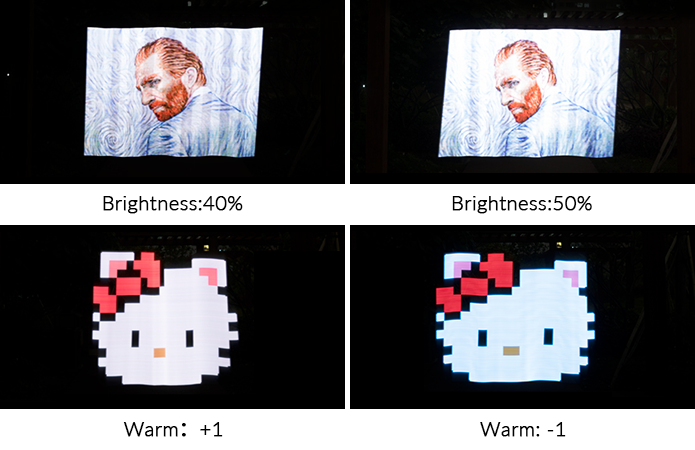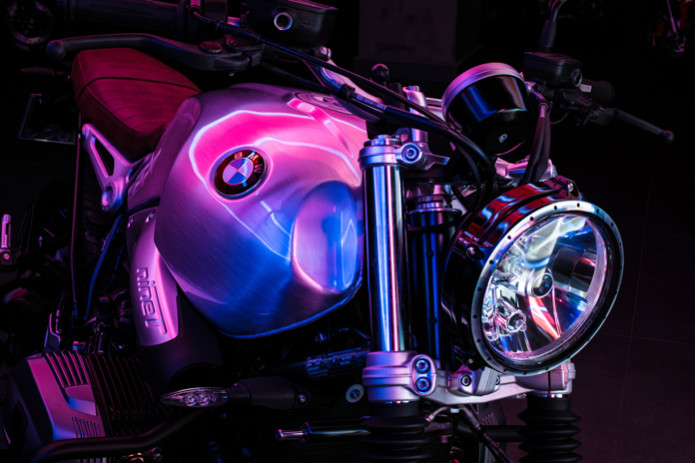 Magilight can also be used as a light source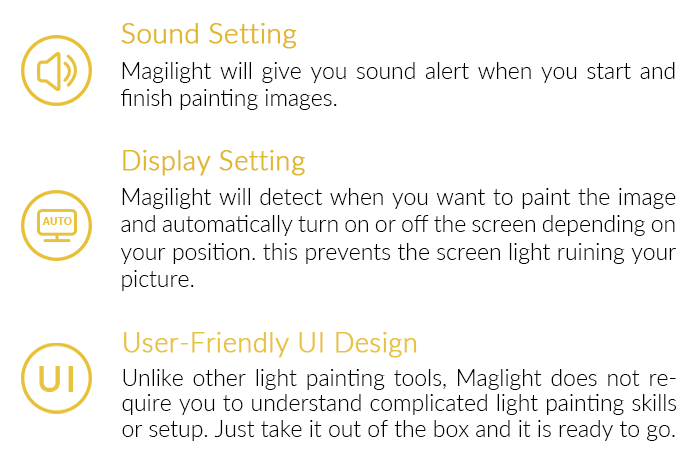 Settings Demo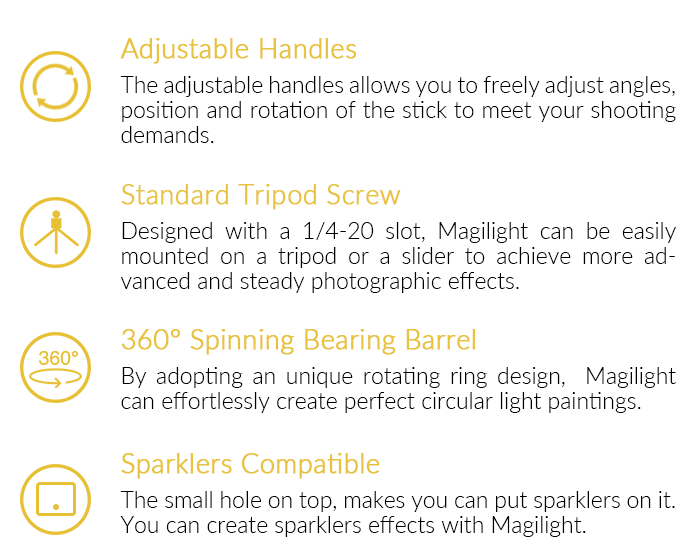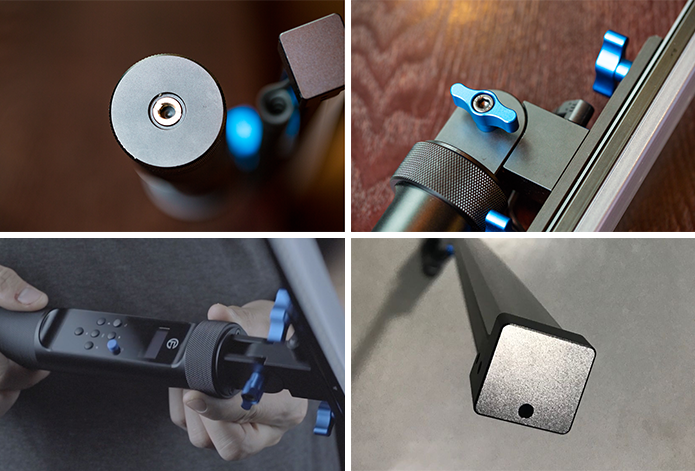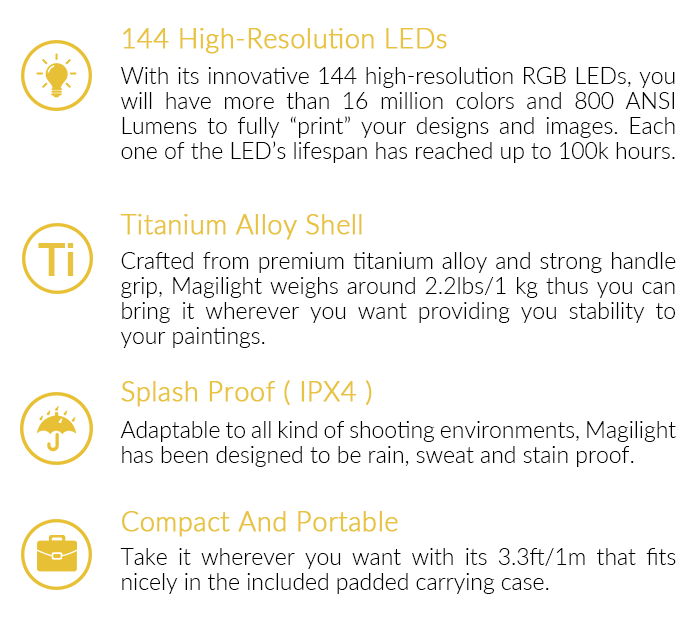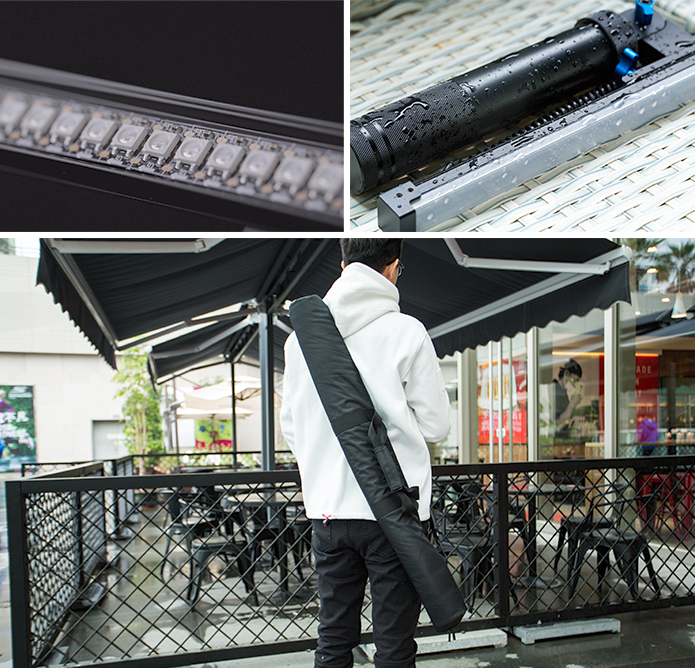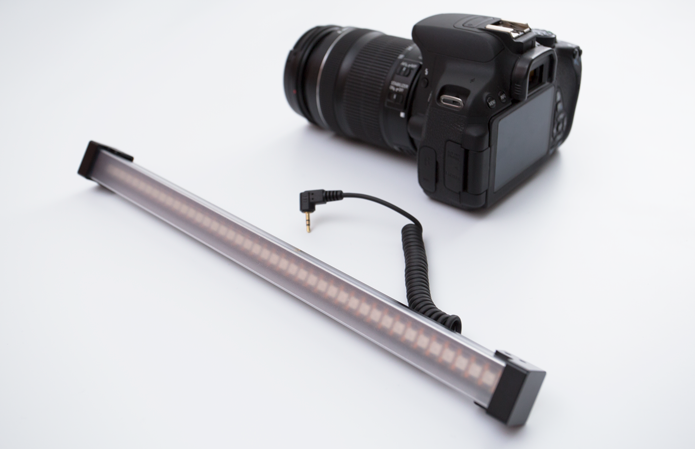 To fit all kind of needs and thanks to the feedback of different light painting artist, we have created the Mini LED Bar accessory. A smaller stick with 43 LED Bulbs, especially to create light trails and paint freely like a Picasso with its brush.
If you want to use the mini LED bar, you need to purchase the Magilight perk. Because it needs to be connected to Magilight's controller so that it can work.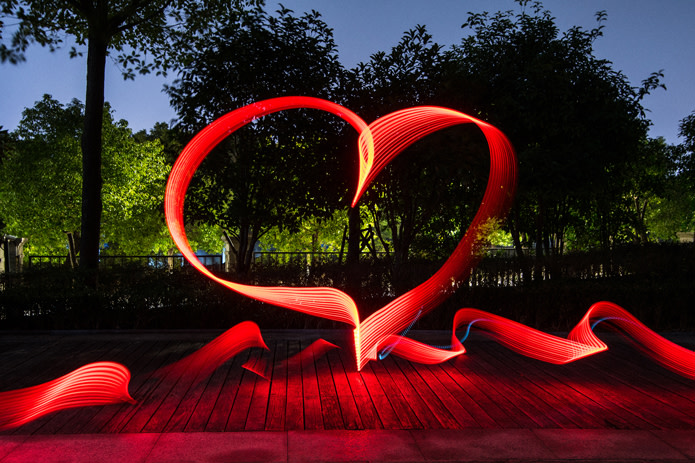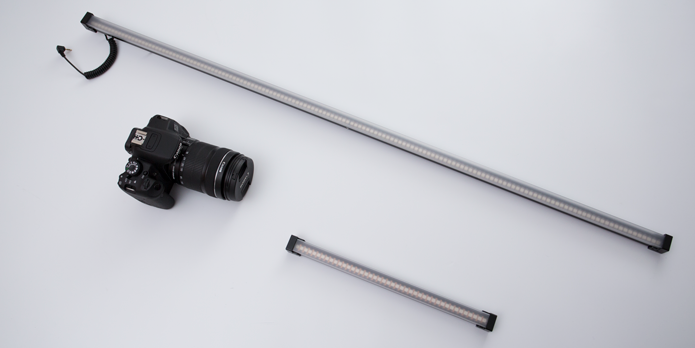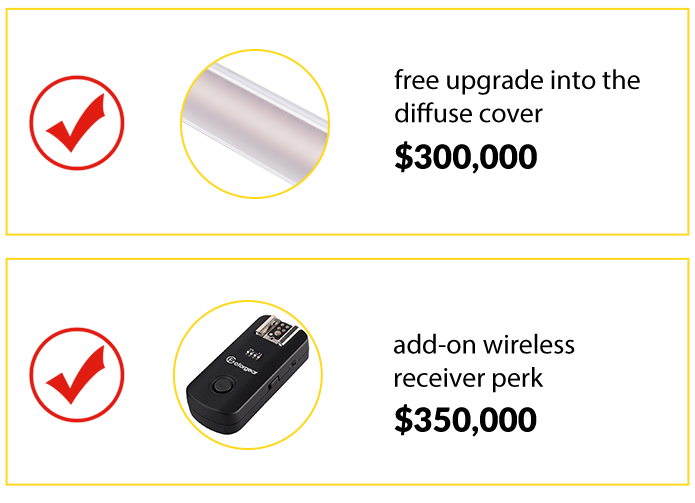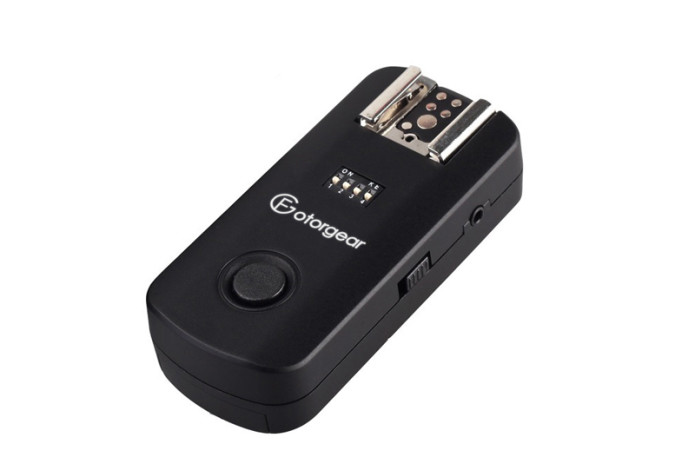 Plug the wireless remote receiver to your camera, then your Magilight can become a remote shutter. So you can use your Magilight to create light painting and control your camera at the same time. It will be much more convenient when you do the light painting.
With the receiver, you can control your camera through Magilight in at least 30m (100ft), and at most 60m (200ft).
It can support all the mainstream cameras, we will send you the suitable cable for you to connect to your camera.
Please make sure your camera belongs to the below chart. The receiver doesn't support other cameras.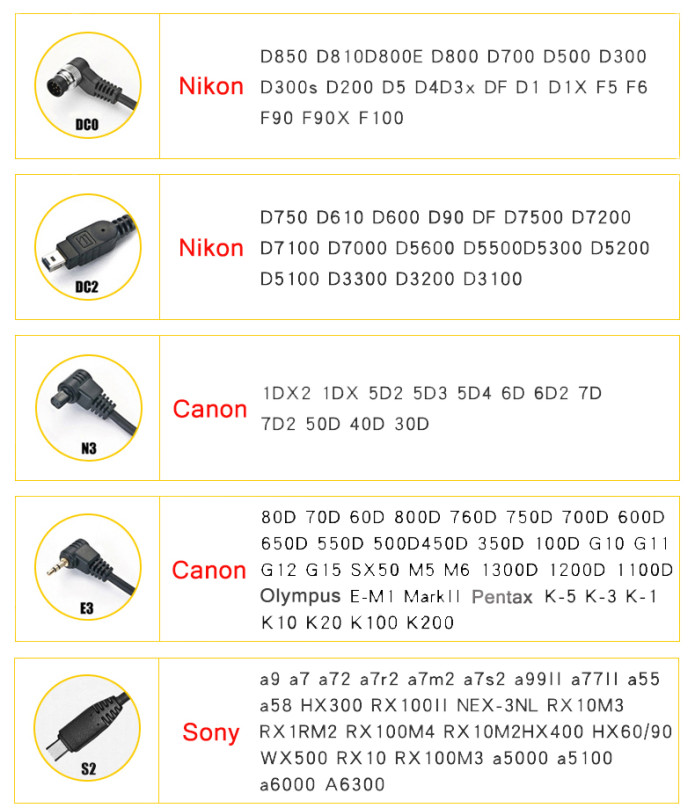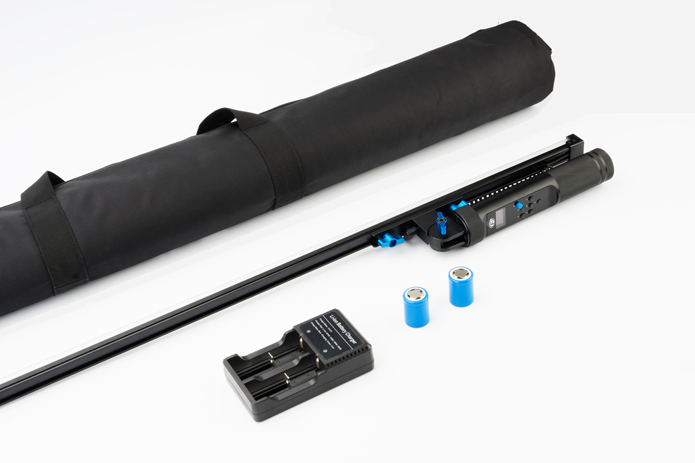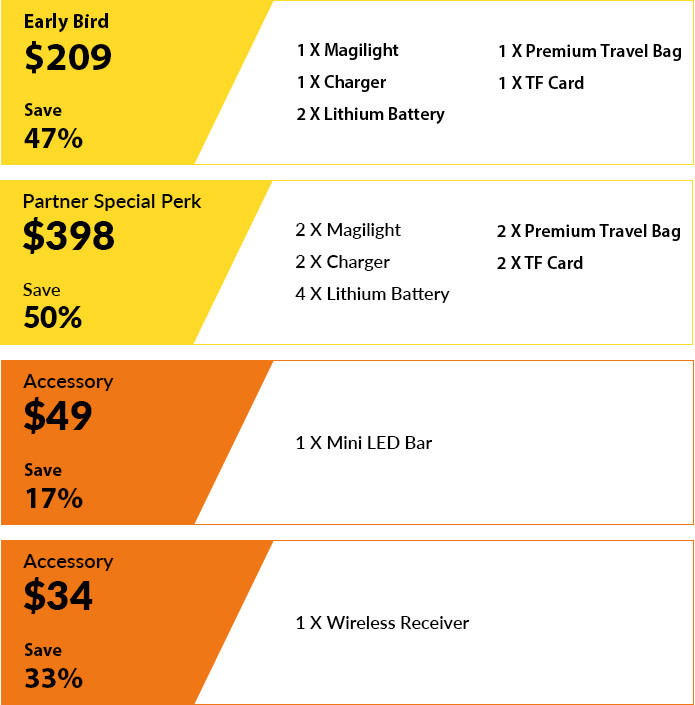 The accessories will be shipped together with the Magilight perk. Please make sure you have ordered the Magilight perk, nor the order of accessories will be refunded.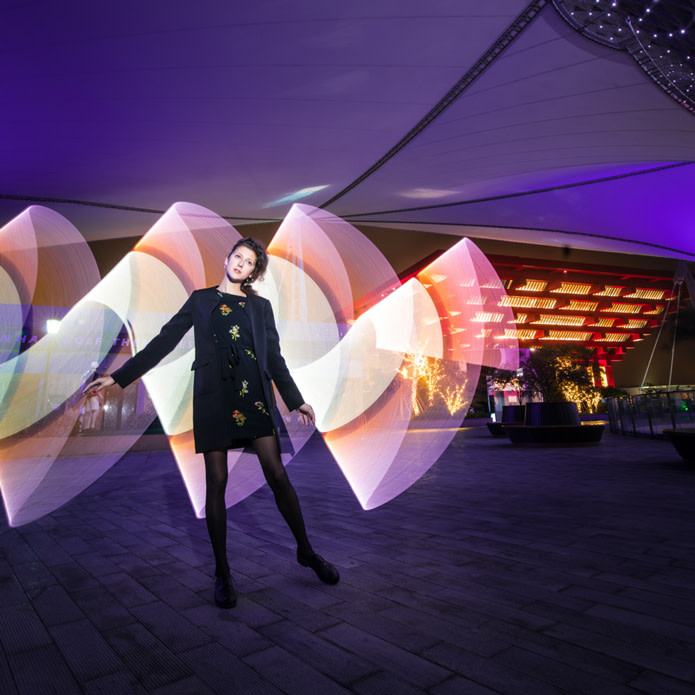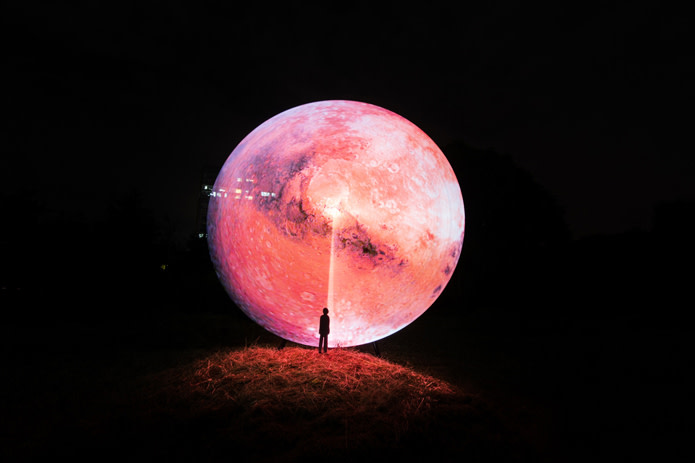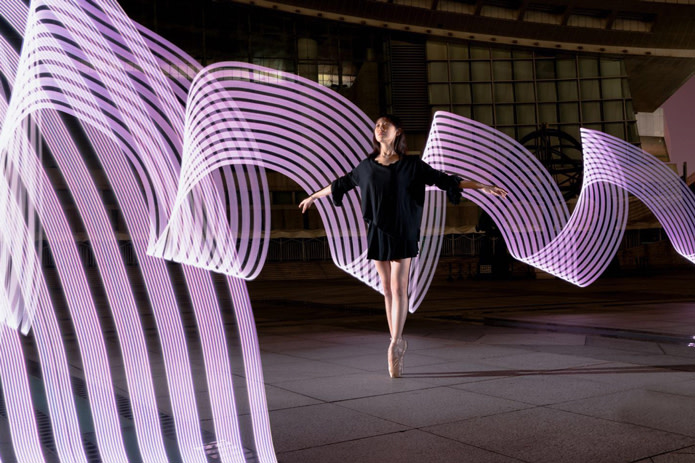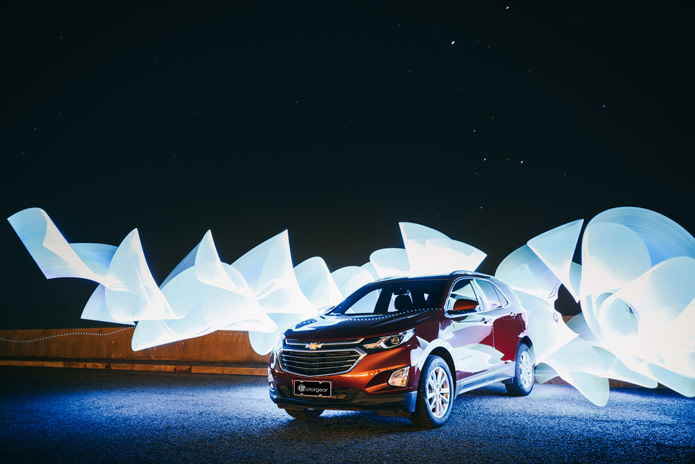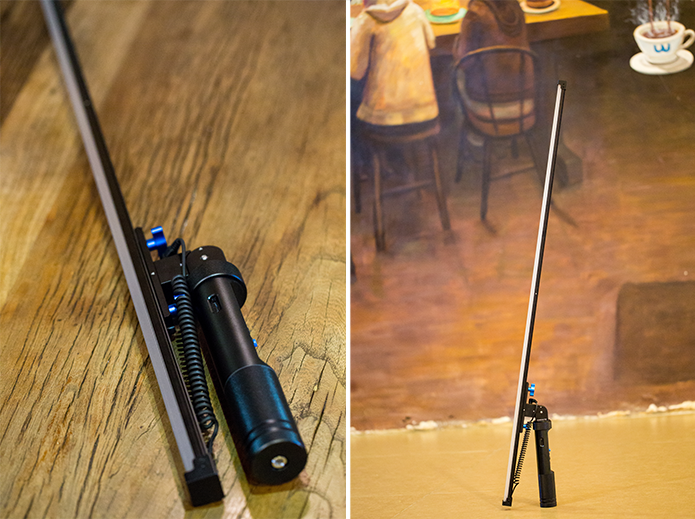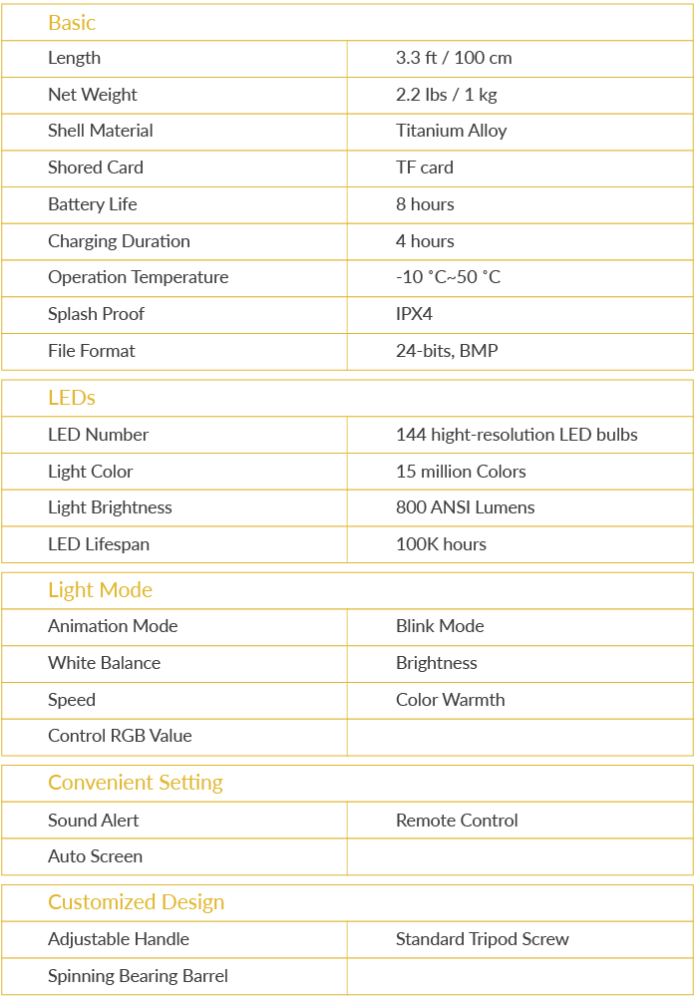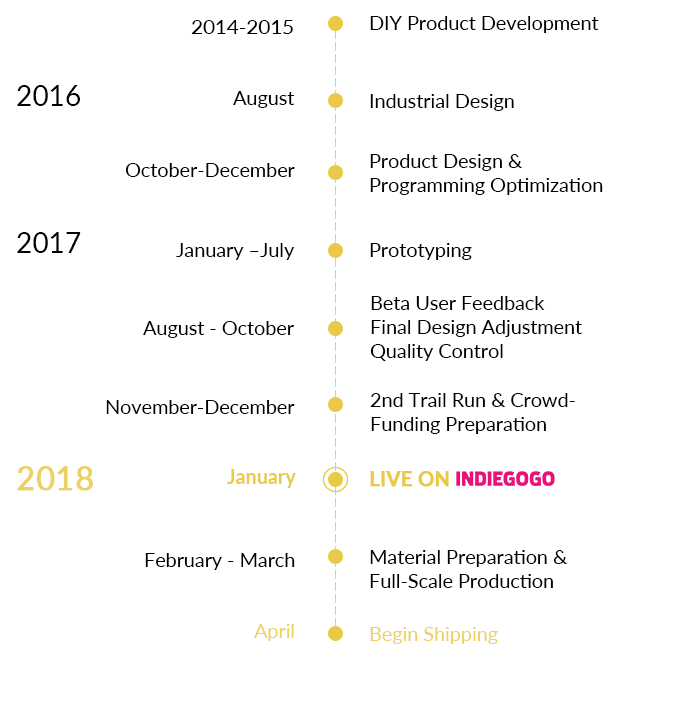 As creators, we are photography and light painting photography enthusiasts. We have used many light painting products on the market, but we are not satisfied with the choices. They are either expensive or lack functionality, and in most cases, we can only use them for fun but not for the professional realm. So we fell in love with the idea of producing our own, professional grade, light painting gear. Now, our team has grown from initial 2 to 11 members. We love photography, we love the art of light painting, and we love what we are doing now. It couldn't be more thrilling to get more and more amazing pixels entered into different fields. We would like to invite you to join this incredible journey with us. Believe us, you will love this magic stick.

Fotorgear is founded by a group of experienced designers, product developers, and photography enthusiasts. After a ton of hard work and improvement, we are able to assess and mitigate all the foreseeable risks and challenges. Before launching our project on Indiegogo, we have already conducted two pilot production, sending our products to friends and professional photographers for testing and reviewing. We have improved the deficiency of the product design based on their feedback and suggestions.
Apart from that, we also built out a specific plan for our manufacturing process. So we have confidence in shipping Magilight on time. If there is any change due to materials, suppliers and unforeseen events, we'll ensure that we keep each of our supporters fully updated. Now, we had finalized our design and are ready to bring Magilight to life, but we need your support. Your support not only gives us the ability to start mass production and build the best products we can imagine but allows us to continue to work on new ideas.





Can I only buy the mini LED bar?
No, your mini LED bar will be shipped with Magilight perk, if you did not buy the Magilight perk, It wouldn't be shipped out,  and we will refund your order. The mini LED bar, as an accessory, needs to be connected with Magilight's controller to get it worked.
Is the mini LED bar (or the wireless receiver) will be shipped with my Magilight perk?
Yes, your mini LED bar (or the wireless receiver) will be shipped with your Magilight perk. And there is no extra fee for the shipment.
Does the  Magilight works with other receivers/triggers?
The signal of Magilight is special. Normal receiver can't receive the signal.
When will you ship the item?
Magilight is expected to begin shipping in April 2018.
How will my order be shipped?
Magilight is supposed to be shipped via DHL/UPS. We will provide a shipping notification and the tracking information for each order. Due to the changes in courier regulations on lithium battery products, our shipping methods are subjected to change.
What's the warranty period for Magilight?
We offer a 1-year manufacturer warranty and will fix any failures or defects that occur through normal use. Our support staff is always available to help as well, so if you're having issues using your product please let us know and we'll take care of it. The batteries are not included in the one year warranty.
Do I have to pay VAT and duty?
For international order, the full value of the package will be declared and is subject to your country's VAT and customs fees. All international duties, VAT or clearing fees are not included in the prices. We'll work with our shipping partners to make this process as smooth as possible, but please be aware that you will be required to pay these fees in order to receive your order.
The question for remote area shipping cost.
Shipping cost does NOT include extra costs like remote area shipping fees. Customers may refer to http://www.cn.dhl.com/en/express/shipping/shipping_advice/surcharges.html
to see if you're located in a remote area with your city's postal code.
Can I get my money back?
Backers can process a refund for their transaction made to a crowdfunding campaign on Indiegogo, provided a campaign is live and not ended, the perk claimed has not been fulfilled, and the funds have not been disbursed to the campaigner.
For campaigns in InDemand, backers can request a refund from Indiegogo within 10 days of the transaction provided the InDemand page is live, the perk has not been fulfilled, and the funds have not been disbursed to the campaigner.
When are contributions not eligible for a refund?
Contributions cannot be refunded by Indiegogo, if any of the following are true:
The contribution funds have already been transferred to the campaign owner
The campaign has ended
The perk associated with the contribution has been fulfilled (Order is marked as fulfilled on Indiegogo by the Campaigner)